Monday 26 October 2020
The Bachelor graduation ceremony of the faculty of Electrical Engineering, Mathematics and Computer Science (EEMCS) is always a special moment. In previous years, the ceremony for our 5 Bachelor programmes took place on the same day. This year's plan was to organize the event in the Grolsch Veste, until restrictive measures were imposed that made this impossible by the government two weeks in advance. The organization faced a challenge to organize an alternative graduation ceremony in a short period of time.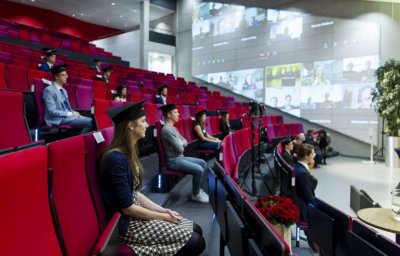 Alma Schaafstal and Satie Biharie have adapted the program of the graduation ceremonies of the bachelor's programs Applied Mathematics, Business Information Technology, Technical Computer Sciences, Electrical Engineering and Creative Technology. With the limitation of 30 people in the room and no guests allowed, the diplomas were awarded in 8 sessions spread out over 2 days. To give family and friends the chance to enjoy the ceremony, they could attend live from home via Zoom. The candidates in the room could see them through the projection on the sidewall. In this way the graduation ceremony could be experienced together in this special Corona time.
A total of 155 students were present to pick up their diplomas on October 15 and 16. In 8 sessions with a maximum of 25 students, a couple of speakers gave a talk, including the dean, a student and a study association. Congratulations to all the candidates! A short impression of the successful, corona-proof ceremony can be seen in the video.