Bio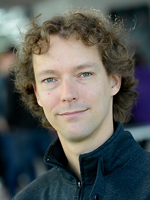 Dennis Reidsma is Assistant Professor at the Human Media Interaction group and Lecturer at the Creative Technology curriculum at the University of Twente.
After obtaining his PhD in 2008 on reliability and validity aspects of large annotated multimodal corpora for machine learning, he worked with dr. Herwin van Welbergen on behaviour generation for coordinated interaction with social agents. Besides a number of high impact publications, this led to the release of AsapRealizer (formerly Elckerlyc), a state-of-the-art Open Source software platform for generating continuous interaction with Virtual Humans, social agents and robots. Currently he uses this platform to investigate the potential impact of social robots in the classroom.
Over the last five years, he also developed a research line on interactive playgrounds for play, care, and learning, through development of, and user experiments with, a number of proof-of-concept prototypes in the lab and in the wild.
In total, he has co-authored more than 70 cited papers on computational entertainment, virtual humans, corpus annotation, and related topics, among which two best paper awards and a co-authorship of the ICMI Ten-Year Technical Impact Award (Carletta et al, MLMI 2005), and one successful Medical Ethical Assessment Application (METC Twente, Study P14-08, NL48070.044.14).
H-index according to Google Scholar
research
Social robots in the classroom
As part of the EU project EASEL, Dennis leads a multidisciplinary team that works on human-robot symbiotic interaction in learning scenarios. Together with this team he looks at behaviour generation for robots in learning, as well as the impact of interactive technology on the learning process and outcome of children in inquiry learning scenarios.
More information: http://easel.upf.edu/ and http://asap-project.org
Expressive technology for play, care, and learning
Over the past five years, Dennis worked together with a team of colleagues (most notably Robby van Delden, Ronald Poppe, and Alejandro Moreno) on a research line on "play with impact" through various projects of playful interaction in smart environments (for entertainment, education, and health & wellbeing applications). He has collaborated on the development of a number of interactive play platforms for children's play, play for people with Profound Intellectual and Multiple Disabilities, play for gait rehabilitation, and other domains. Central theme in these projects is the potential for playful interactive technology to influence the social and physical behaviour and experience of the user.
More information: http://playwithimpact.com/
Teaching
Dennis Reidsma teaches, and coordinates modules, in the BSc programs Technical Computer Science and Creative Technology program, and plays a role in designing the new MSc program Interaction Technology. In addition, he supervises student projects in the Human Media Interaction MSc curriculum at the University of Twente, and occasionally teaches guest lectures at PhD summer schools. He completed his University Teaching Qualifications in 2015.
REVIEW AND EDITORIAL ACTIVITIES
Dennis Reidsma was co-editor of the proceedings of ACE 2012 Nepal (and demo chair), ACE 2013 Twente (program chair), INTETAIN 2009 Amsterdam (local chair), and INTETAIN 2014 Chicago (program co-chair), and has served as guest editor for several issues of the journal on Entertainment Computing (Elsevier) and the International Journal on Arts and Technology (Inderscience). He serves as Associate Editor for the Entertainment Computing journal, and reviews regularly for workshops and international conferences such as ICEC, ACE, INTETAIN, ICMI, HBU, Measuring Behavior, IVA, CASA, AAMAS, and many others.
He has been involved in the organization of the following scientific events:
INTETAIN 2014 – Program co-chair
ACE 2013 – Program co-chair
ACE 2012 – Demo chair and co-editor proceedings
ICSR 2011 – Work-in-Progress co-chair
IVA 2011 Workshop on further development of the BML standard (co-organized with Herwin van Welbergen)
Continuous Interaction with a Virtual Human – Project leader of a summer project as part of eNTERFACE 2010
INTETAIN 2009 – Local chair and co-editor proceedings
INVITED TALKS AND LECTURES
Invited 3 day workshop on Creative Design during a summer school at the University of Salford, UK, by invitation from prof. R. Bargar (2016)
Invited presentation at "Leraren met Lef", Parade Amsterdam, about robots in class (2016)
Invited talk at the Care4Living seminar, about consequences and opportunities of new technology in the care sector (2015)
Invited talk at Columbia College, Chicago, about Creative Technology (2012)
Lectures at various summer schools for SIKS & HTI 3TU spring schools
OUTREACH AND MEDIA COVERAGE
Outreach
Dennis plays an active role in outreach activities from his research group.
He takes specific care to keep/get students from the various educational programs involved in research, by stimulating them to pursue their own ideas to the point of publishing the results in a peer reviewed paper (leading to more than 10 peer reviewed papers co-authored by students). He organises field trips for primary school children in the DesignLab of the University of Twente (several times a year), where children play with many novel technologies but at the same time contribute to interactive evaluations and the collection experimental data. Furthermore, he organizes "in the wild" and field tests with interactive technology for play and learning together with his PhD students. These tests take place at "semi-public" locations such as Hoogstraat Revalidatie (gait rehabilitation), Dichterbij (care institution for people with PIMD), various schools and daycare centers, and TETEM art gallery, plus simiar activities with BSc and MSc thesis students at, e.g., Concordia Gallery Enschede, Rijksmuseum Twenthe, and Music Therapy sessions at the ArtEZ School of Music.
Finally, he is also part of the "werkveldcommissie" (an advisory body) of the newly created Master Programme in Music Therapy at ArtEZ School of Music in Enschede.
Media coverage
Dennis' work received quite some exposure in media (especially in the context of the EASEL, COMMIT, and GREAT projects), among which the following selection:
2014-10-02 AT5 https://www.youtube.com/watch?v=agyL6JmT-lc
2015-03-26 Radio 1 (Tikkertje 2.0 @ TETEM art gallery) http://www.eenvandaag.nl/binnenland/58395/het_nieuwe_tikkertje 
2016-01-12 Kids day in DesignLab in various media

TV Enschede http://www.tvenschedefm.nl/tv-enschede-nieuws-dinsdag-12-januari-2016/tvgemist/item?9StiNzdwOwCDOtW0BSQJrg==
UT Nieuws http://www.utnieuws.nl/nieuws/62423/Winwinsituatie_in_DesignLab
TV Oost https://www.youtube.com/watch?v=qb9wMeZ4lzA
Radio oost http://www.rtvoost.nl/nieuws/default.aspx?nid=235322&_ga=1.167852001.1197281629.1459604764&_ga=1.266298381.382606537.1474828673
TC Tubantia 13 January (p 9)

2016-01-23 Large article in "AOb onderwijsblad" about robots in class http://tekstproducties.nl/wordpress/?p=708 
2016-04-02 Appearance at ZAPP Live http://www.npo.nl/zapplive/02-04-2016/KN_1679076
2016-04-05 Placement of a LED video floor in our lab (loaned to us by LEDGO BV) covered in
several media

http://www.rtvoost.nl/nieuws/default.aspx?nid=241566&_ga=1.57214445.612449637.1474829072
https://www.utwente.nl/nieuws/!/2016/4/499120/hightech-looptherapie-op-videovloer
http://www.utnieuws.nl/nieuws/62758/Dezelfde_looptherapie_met_meer_motivatie
https://www.deingenieur.nl/artikel/sneller-revalideren-met-videovloer-vol-leds
http://www.npo.nl/nos-journaal/06-04-2016/POW_02989477
Publications