Thursday 8 December 2022
University of Twente has signed the Amnesty International's 'Let's Talk About YES' manifesto, which focuses on countering sexual violence and properly supporting its victims. In the presence of various study, sports and student associations from the UT community, rector magnificus Tom Veldkamp signed the manifesto today, on Thursday 8 December 2022. Sixteen higher education institutions in the Netherlands have already signed the manifesto, including universities in Amsterdam (VU), Rotterdam, Leiden and Maastricht, as well as Saxion University of Applied Sciences yesterday.
Signatories of the manifesto pledge to work to combat sexual violence. They also promise to take measures to ensure that everyone within the educational institution feels responsible for a culture in which sex is based on equality and consent.
Prior to the signing, representatives of various boards of study, sports and student associations discussed how everyone within the UT community can contribute to combating sexually unacceptable behaviour or violence, for example by paying extra attention to signalling and providing information, but also in offering help and support to victims. For instance, victims are properly guided to professional support structures and receive support in, for instance, reporting the crime. During the meeting, ideas will be exchanged and dilemmas from daily practice will be discussed.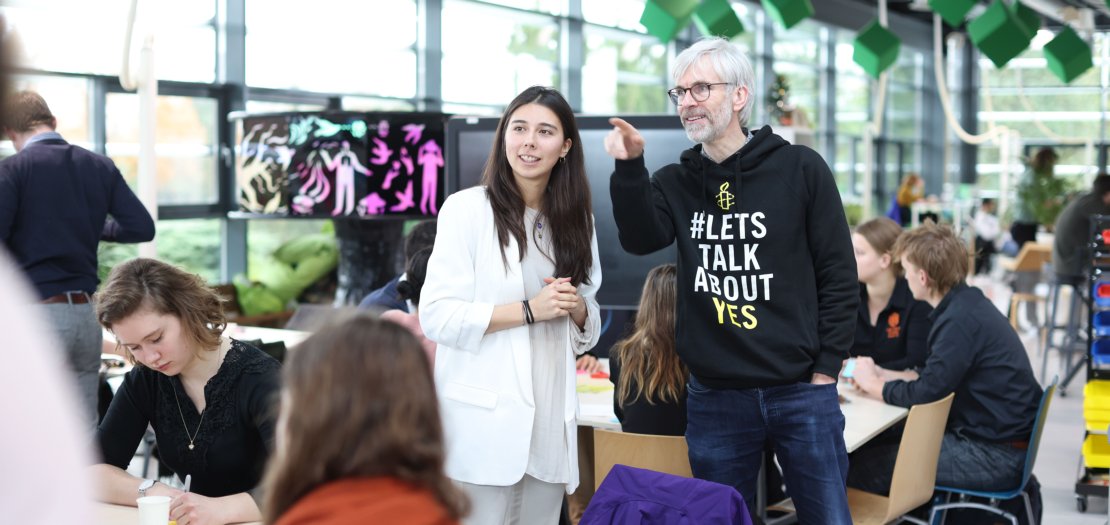 Last June, Amnesty International released its findings from the study on sexual violence during college. The alarming findings of that study were explicitly taken on board by the UT in discussions about realising a firm, joint approach to this issue.
Rector Magnificus Tom Veldkamp: "In our discussions over the past year, it emerged that we are already doing quite a lot on this theme. But sometimes it also needs to be more visible: for example, it should be immediately clear to victims who they can turn to if they are faced with sexual violence and they should not experience a threshold. Countering sexual violence is a responsibility we have together, which requires continuous attention. We want to provide a pleasant and safe study, work and living environment for everyone."
More information on what you can do if you experience sexual violence or other transgressive behaviour can be found at www.utwente.nl/socialsafety.