NWO Project: Smart Culture - Creative Cities
Anouk Geenen/JM Castano
The growing municipality of Amersfoort – which is already home to 155,000 residents – stands on the brink of major change. Its main issues revolve around sustainability, smart technology and democratic participation. How can you give substance to these developments and ensure that the interests of various groups in the "smart" city are all represented?
Project partners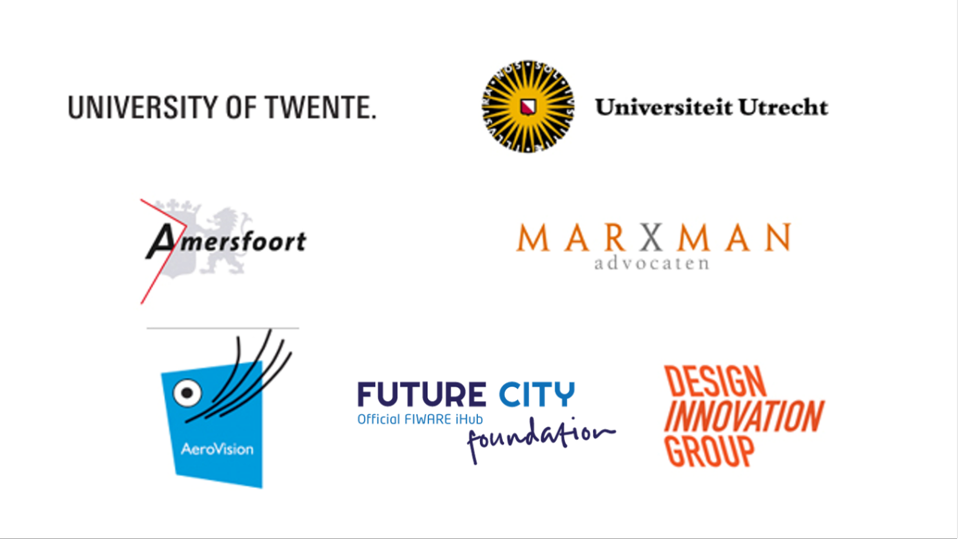 Background project
It is a commonly heard term in policy documents and the social media posts of city officials: the "smart city". The messages are optimistic and emphasise the fact that a smart city utilises modern technology and new forms of collaboration to improve urban facilities and the quality of life in the city.
Smart city theories are not immune to criticism, however; mainly because of the use of the loaded term "smart" (who decides that?) and because of the belief that the smart city is mainly supported by officials, scientists and engineers and less so by the residents themselves. This research project seeks to make a critical and positive contribution by putting people first and bringing together the interests of all stakeholders in the smart city.
SMART CITY COLLABORATION PLATFORM
How can we achieve this? We are developing an architecture for a smart-city collaboration platform. It supports the role division between partners in the so-called "quadruple helix" (government-citizens-academics-industry).
The exact nature of this platform – online, offline or a combination of the two – will be decided by the partners together. The goal is for the platform to encourage stakeholders to give substance to their smart city using the latest technological developments and a degree of ownership.
FOCUS
Our focus is on the role that design and the creative industry can play in the realisation of effective collaboration in the quadruple helix. We identify the keys to success and possible obstacles on the road. This responsible design approach – which involves all stakeholders in the dialogue – offers a fresh perspective on the design of smart cities.


Update
18 August 2020 | Visit responsiblecities.nl to stay tuned

Have you already checked our website www.responsiblecities.nl? It is the official website of our project. Stay tuned by visiting it regularly! 

We will keep updating this site, but www.responsiblecities.nl will inform you of our latest activities. See you there!

15 March 2020 | Annual report 2018-2019

Time flies!

While we prepare new design interventions for 2020, we have been working on an annual report that summarizes our activities during the first year of this research project (2018-2019).

Would you like to learn more about the smart city controversies we discovered during our workshop sessions? Would you be interested in knowing more about a 'walk-shop' method to unravel controversies?

You may learn more about this (and more) by reading our annual report. See below!

19 February 2020 | Dutch Design Week Booklet- Read a selection of 60 stories about the future of the city!

Last October 2019, we participated in the Dutch Design Week as a part of the Design United exhibit. During 9 days, we invited visitors to write stories about the future of the city using our card game. We got many enthusiastic writers we collected more than 120 stories!

As an outcome of this experience, we have made a selection of 60 stories and have developed an illustrated book based on them. Would you like to get inspired by people's visions of smart cities and learn more about this inspiring co-creation? You may find the booklet here. Enjoy!
Note: If you would like to receive a digitally accessible document, please send an email to Servicedesk Online Media.

28 January 2020 | 'The Future of the City', organised by Fasade in Amersfoort

On January 28th, 2020, we were involved in the first evening of the Future of the City event series organized by Fasade in Amersfoort (live music included!) where participants could play our storytelling card game about the future of the city.

The event had interesting speakers: Jeroen Ruitenbeek provided a clear urban planning analysis of a district area in Amersfoort (Langs Eem and Spoor), and Jan-Willem Wesselink (one of our project partners, from the Future City Foundation) talked about the ethical implications of smart city technology. Besides, we attended a thought-provoking panel discussion (joined by our colleague Anouk Geenen) that inspired us to think about relevant questions such as: 'How is the city evolving, and how do these changes influence the future?' 'What does "being a smart city" truly mean?'.

It was nice and inspiring to engage with citizens and practitioners in Amersfoort. We are looking forward to the upcoming events and sessions we will have in 2020 as part of our research project.

18 December 2019 | Walk-shop: Unraveling smart city controversies combining a city walk and a cocreation session

During our partner meeting in November 2019, we experienced a 'walk-shop' initiated by the University of Utrecht. The 'walk-shop' session consisted of a walk followed by a co-creation session to identify smart city controversies, and define tactics to tackle them. The combination of having a situated experience like a walk followed by a workshop proved to be a fruitful format to make controversies come to light, and come up with creative approaches to debate and address them!

We are looking forward to experiencing this method again during our design interventions in 2020.

Would you like to know more about this walk-shop method? Have a look at the report attached to this post.

17 October 2019 | Our project at the Design United Exhibition (Dutch Design Week)

If you are planning to attend the Dutch Design Week (from 19-27 Oct in Eindhoven), come and join us at the Design United Exhibition entitled "Tilt-shift: reframing futures". This exhibition is a joint effort from the 4TU (Universities of Delft, Eindhoven, Twente and Wageningen). In the attachment you may find the invitation to the opening, but feel free to drop by anytime at the Klokgebouw Hall 3.  

Our project will be part of this exhibit, and we will carry out a design research experiment called "The journalist of the future city". To this end, we have adapted a card game to equip people to imagine how value changes might occur as a result of the implementation of technology in the city. More information about our exhibit in the box below!

How can we best prepare to imagine and create our futures?
"The Journalist of the Future City"

This collaborative project is an imagination game for triggering thought-provoking ideas on how urban life and values might change as a result of the introduction of a new technology in the city. Players each draw four cards from the card deck and then create a provocative short story based on the content of the cards. This exhibition is in part a design research experiment. The results will inform continued research on how to equip people for future-making activities, and how citizens anticipate value changes in the smart city context.

Visitors are invited to play.

We are looking forward to attending the Dutch Design Week and getting inspired by the visitors' participation. It would be great to see you there!

3 September 2019 | Keynote at conference "Beyond Smart Cities Today"

One of the members of our research team at the University of Utrecht, Michiel de Lange, will give a talk at the two-day conference "Beyond Smart Cities Today". He will talk about this research project and present some of the work-in-progress.

Interested? Feel free to join the event!

Conference title          Beyond smart cities today
When?                        18 and 19 September, 2019
Where?                       Rotterdam, The Netherlands
Hosts                          Centre for BOLD Cities, Erasmus Institute for Public

Knowledge, Knowledge Lab Urban Big Data, Erasmus Initiative Vital Cities and Citizens.

Info: https://www.centre-for-bold-cities.nl/beyond-smart-cities-today. 

2 September 2019 | Corelia Baibarac-Duignan: New postdoctoral researcher at the University of Utrecht

We are very happy to welcome a new team member! Corelia Baibarac-Duignan has joined our team as a postdoctoral researcher at the University of Utrecht. Interested to know more about Corelia? Below you may find her bio!

Corelia is an architect with urban planning experience and a transdisciplinary researcher, living in Amersfoort. She studied architecture in Bucharest and Genoa and worked as an architect in Dublin where she also commenced her academic career, obtaining a PhD in sustainable development from Trinity College Dublin in 2014. Her doctoral research focused on digital platforms for enhancing civic participation in urban planning, using the lens of people's everyday mobility and participatory research with Dublin inhabitants and council planners. 

After her PhD, Corelia moved to London where she worked as an urban planner for a local council and expanded her research expertise at the University of Sheffield, School of Architecture, having won Horizon 2020 Marie Curie postdoctoral funding. The postdoctoral project explored opportunities for scaling community-based resilience initiatives (e.g., urban agriculture, self-built and ecological practices, social entrepreneurship, civic and cultural activation) using digital tools, co-designed with practitioners and local residents involved in initiatives in Paris, London and Bucharest.  

In 2018 she relocated to the Netherlands with her family. After a short career break and collaborations as a freelance researcher, Corelia has recently joined Michiel de Lange's team at Utrecht University, Department of Media and Culture Studies. In addition to her research on the 'Designing for Controversies in Responsible Smart Cities' project, she will also contribute to the Creative Urban Technologies Course and the Media Architecture Biennale 2020.

29 August 2019 | Workshops at the Curious U summer school

'Design your future smart city neighborhood: connecting values and technology'

Imagine you had to design collaboratively a city neighborhood around the value of romance. The first step would be to ask yourselves: what does "romance" mean to us? Romance evokes different things for different people based on their cultural background, age or experiences. So, this would require taking multiple perspectives into account. Then, you would have to reflect on how to embed romance in urban life. What kind of places would you design? How would a city based on romance look like? And now, given the pervasive introduction of technologies: imagine there are surveillance cameras in every corner. How would they change city life? What's more: how would the meaning of romance evolve? Would romantic interactions change? How would they become different?

We posed these and other questions to students participating in the Curious U summer school at the University of Twente. During the Curious U summer school, we had the opportunity to facilitate sessions for the "Smart Cities" and "Designing the Future" courses. One of our workshops consisted of designing the prototype of a neighborhood based on a specific value  (i.e. romance, autonomy, serendipity, freedom) and reflect on the value changes that originate from the implementation of technology in smart cities. 

The students' creativity and commitment was a source of inspiration for our research. The workshops provided interesting insights into the tools and methods we can apply to facilitate the anticipation of value changes in smart cities. Prototyping proved to be a valuable means to debate around the meaning of values and their meaning in the city, making certain issues tangible. The results we obtained from this workshop will inform our upcoming research activities. We are currently analyzing the data and expect to have a report very soon. We will keep you posted!

13 August 2019: Getting to know our research partners: The Future City Foundation

Curious about why The Future City Foundation is one of our research partners? Keep reading and you will find our in the blog-post they have written for this project portal!

Future City: how is the city changing because of technology and digitization?
"This spring I visited Paris for a few days. At some point, I received an WhatsApp-message from one of my children: "what have you done to Nôtre Dame?". The world knew that the cathedral was on fire before the Parisians did. The strange thing is that this did not surprise me anymore. I am used to the fact that, in recent decades, the concepts of time and place have taken on a completely different meaning. I would like to know what that meaning is. And that is the question that we are working on at the Future City Foundation. We investigate how technology and digitization are changing the way we live, and what that means for our cities and towns.  

This change has an impact comparable to the rollout of electricity, and it occurs at an unprecedent speed. This situation offers great opportunities to solve the increasingly complex challenges in our cities and villages in a new way, to make the city more sustainable and, ultimately, to keep it livable.

But, if we want to see technological progress, we must make decisions about how technology influences our living environment. Sound political choices about new public values. Sensible choices about which technology we use. Thoughtful design choices about the layout of our cities and villages.

The Future City Foundation is the first smart city network in the Netherlands that focuses on the demands and questions of the city. A haven for municipalities and other organizations to develop and experiment with their own solutions. We look for answers by connecting urban planners and technology professionals. The Future City is an initiative of companies and governmental organizations that want to exchange knowledge, thoughts, ideas and solutions among technology professionals, administrators and urban planners. We organize events where these groups get in touch with each other. These events revolve around relevant social challenges, and we let the groups to come up with solutions together.

And that is also the reason why we participate in the project "Designing for controversies in responsible smart cities": we want to understand how technology changes our way of thinking and living and we think this research will answer that question. How is it possible that I started to find it normal that I am always connected? How does that change my life? And the city where I live in?"

26 July 2019 | Smart city dreams and nightmares at the real estate forum in Amersfoort

What do people dream of when thinking about smart cities and technology? And what are their worst nightmares? We asked these questions during the Real Estate Forum event that took place in
Amersfoort on May 29th. A diverse and inspiring group of 20 participants belonging to the local government, housing associations, and real estate developers imagined smart city scenarios with us, leading to interesting reflections!

If participants had a free pass to use technology as they wished, they would:

·       Increase the connection between people and the city: self-driving cars should not be merely developed for the sake of efficiency. They should be used to improve traffic routes so children can play outdoors in the streets.

·       Use data to inform citizens and make predictions: instead of being overloaded with information, technology allows for proper communication so citizens have insights into what is going on in the city, and they can make informed decisions. Furthermore, what if algorithms and sensors helped us to predict undesirable events to make us more efficient and improve our quality of life? We already use applications to predict rain so… why not applying them in other areas?

·       Use technology in the city to contribute to the circular economy: sensors can collect data to minimize urban waste and pollution.

However, what would be the associated nightmares?

·       Discrimination: what if certain neighborhoods feel discriminated because of these measures? Who will determine who benefits from these measures?

·       Exaggerated reactions to insights: what if providing too many insights makes certain issues unrealistically enlarged?   

·       Lack of surprises: another recurring topic in the workshop was the danger of defeating the main purpose of living in the city. By overly measuring everything, there is no room to encounter the unexpected and embrace surprises. Why do we live in cities if everything is predictable?

·       Lack of innovation: with an achieved circular economy, we might miss an incentive to improve since any innovation would break the 'perfect' circular system.

This is just a sneak preview of some of the results we gathered during the workshop. We are currently working on a research report and publications about it, and on the next research intervention so…. Stay tuned!

We would like to thank the Future City Foundation for inviting us to give this workshop.

15 July 2019 | Scenario-based product design and smart city controversies

The summertime is an excellent period to reflect on the last academic course. Last year, one of our most inspiring activities was our involvement in the Scenario-Based Product Design (SBPD) course, where we had the pleasure of being case-owners for two groups of students. SBPD tools and techniques are suitable for our research project since they facilitate an open-ended design process that involves stakeholders to explore, ideate and/or conceptualize ideas.

The students successfully organized co-design sessions with citizens and the municipality of Amersfoort. Both groups worked on solutions to trigger controversies, aiming at creating awareness of the existence of tensions while using technologies in smart cities. This way, students focused on stimulating debate among different sectors of society.

One of the groups proposed to use an app, called the "moral filter", to display the controversies in citizen's phones and make them aware of how controversies could potentially influence their behavior in the city.

Another group designed a city walk in Amersfoort where citizens could experience first-hand what technology was doing in the city and the type of data that was being collected. At the end of the "controversy walk", citizens could describe their impressions and feelings.

Our collaboration with students was a great source of inspiration and we plan to participate in more courses in the near future. If you are interested in collaborating with us and getting inspired together, don't hesitate to send us an email!

Note- Special thanks to the groups of students for their good work (Judith Ditscherlein, Renske Hortensius, Ruben Pot, Ellis van Steenis, Lisanne Verheij, Anne Bulten, Sophie Kooij, Eeuwe Krikke, Lara Siering, Marianne Visscher) and to dr. Deger Ozkaramanli for giving us this great opportunity.

4 July 2019 | Getting to know our research partners: The Design Innovation Group

In a 'smart city' data is being collected with the intention to organize all sorts of things in the public space in a smarter, better and more efficient way through technology. But what makes a smart city a good city? Which assumptions about efficiency and speed ought to be questioned? Forget about the smart lamppost or underground waste container for a second – in case ánything would be possible, what is it that we would want?". Our partner Design Innovation Group provides thought-provoking reflections about smart cities. What is their expertise and main motivation to join this research project? Keep reading and you will find out in the blog post they have written below! 

Who we are and what we do
Design Innovation Group (DIG) is a creative consultancy. As researchers and designers, we strategically use creativity and Design Thinking to fuel change and innovation. 'Design thinking' means: we are always paying attention to people, to people in their environment, to behavior, values and needs. Humans are central, and context is indispensable – nothing stands on its own. 'Design thinking' means: a learning approach in which continuous development is based on feedback, and active co-creation. Instead of talking about people, we talk to people: verifying assumptions, asking questions, listening, and getting to work — together.

Why we contribute to this research project
We find the 'Designing for Controversies in Responsible Smart Cities' project relevant and interesting  because it deals with the future of urban living, and zooms in on the places where tension and friction arise – with the ultimate goal of designing a toolkit that facilitates a constructive conversation among all parties concerned.

What we are wondering in regard to 'Smart Cities'
In a 'smart city' data is being collected with the intention to organize all sorts of things in the public space in a smarter, better and more efficient way through technology. But what makes a smart city a good city? Which assumptions about efficiency and speed ought to be questioned? Forget about the smart lamppost or underground waste container for a second – in case ánything would be possible, what is it that we would want?

A transformation from a city towards a 'smart' city leads to potentially fundamental changes for government, entrepreneurs and residents. How do you handle the different, and possibly conflicting, needs and interests of those three parties? Who has a say on what is measured in the public space, and insight into what conclusions are drawn based on that data? How important is transparency? Do you feel more free if you see and know exactly what is happening, or more so if it is not perceptible?

What we contribute to this research project
Co-creation is a tested way to begin answering the questions like the above. Together with our consortium partner, the University of Twente, we developed a workshop for a mixed group of participants. Groups of participants devise ideas for their ideal smart city and critically examine the top 3 ideas: what could go wrong there? From the aforementioned ideas and objectives, and the discussions held, insights emerge about controversies in the smart city. These controversies indicate where friction and tension exists, and point to areas that will be further investigated and explored in this project.

The image below shows some impressions of the materials used during the workshop and the participants in action! 

10 June 2019 | Getting to know our research partners: Municipality of Amersfoort

Amersfoort wants to be a "smart city". A city that strives to make life cleaner, safer and more comfortable by using new technology that supports both the municipality and the residents. In our research, the municipality of Amersfoort contributes with their expertise in smart cities, and provides interesting cases to learn from smart city technology in the public space. Below you may find the municipality's viewpoint on smart cities and this project. 

AMERSFOORT: OLD AND SMART CITY

Amersfoort: OLD…

'Long John' ('Lange Jan' or officially: 'Onze Lieve Vrouwetoren') was built around the year 1500, is nearly 100 meters high and is known as the geographical center of the Netherlands. The tower represents the medieval city all Amersfoort's citizens are proud of. But beautiful old buildings are not Amersfoort's only characteristic: Amersfoort is an energetic city with more than 155,000 inhabitants – and still growing - that is attractive both to live in because of its high level of facilities and green environment, and to companies because of its accessibility and well-educated population. Citizens are interested in the way the city is administered and have an open mind towards new ideas.

…. and SMART

From 2013 a couple of falcons uses 'Long John' every year as a place to give birth to their children.
The nest is closely observed by a piece of modern technology: a public webcam.

Amersfoort is aiming at 'healthy urban living' by using smart city technology in:

utilizing natural sources of energy;
climate adaptation (water management);
mobility & air quality;
noise level during events; and
safety.

Small pilots are organized to learn from smart city technology in public space. In these pilots, the city board and civil servants, citizens, companies and knowledge institutions work together. An important aspect of using technology is the collection of data. Amersfoort closely follows the public debate on ethical aspects and participates in VNG's initiative Principles on the Digital Society.

Amersfoort welcomes the UT project 'Designing for Controversies in Responsible Smart Cities', because it helps us to take advantage of opportunities offered by smart city technology, and set conditions if necessary.

7 May 2019 | Smart city dreams.... and their drawbacks! Workshop at Future City Foundation on April 5th, 2019

It seems that smart cities will help us to address our most urging challenges: traveling faster wherever we want to go, targeted services whenever we need them, better air quality thanks to sophisticated sensors. And many more! Policymakers, companies, and other organizations dream of desirable futures and work on the implementation of technology in our cities to achieve them. However, what do people dream of when thinking about technology and cities? What can of issues would people want to address with technology?

Last April 5th, 2019, we held a workshop session at the Future City Foundation in Amersfoort. Together with one of our project partners, Design Innovation Group, we developed a workshop approach to encourage participants to think about their smart city dreams… and the potential drawbacks these may have (in a "be careful what you wish for" fashion). By surfacing the dreams and associated nightmares of smart city projects, we wanted to deepen into smart city controversies.

The 40 workshop participants came from a very diverse background, allowing us to have a representation from stakeholders of the quadruple helix. Our preliminary analysis indicates that the use of technology in smart cities aims at fulfilling wishes about what we want our society (and its members) to be, do and feel. We dream of using technology to help us feel happy and healthy, adopt more sustainable habits in our energy consumption, or be supportive of others. Smart cities enable citizens and organizations to undergo major transformations towards becoming safer, healthier, or more efficient. However, achieving these goals has drawbacks, and challenges our values in ways that are difficult to anticipate.

Apart from the "usual suspects" that tend to appear in debates about the use of technology in smart cities (i.e. privacy, security), the concerns that participants mentioned more often related to (1) control of technology, (2) justice, (3) autonomy, and what we call (4)"un-bubbling".

1. Control of technology: who determines what "being in need", "quality of life", "sustainability" mean? This black-box and imbalance of power can lead to situations in which people that need help are not part of the system (hence, not being helped).

2. Justice: optimizing urban processes entails evolving towards a more standardized society where being different and not fitting in might be punished; leading to exclusion.

3. Autonomy: the convenience and comfort provided by technology in smart cities might lead to deep changes in how autonomous we are individually and as a collective.

4. "Un-bubbling": staying in our own bubble can potentially lead to polarization and isolation. Society comprises stakeholders from multiple spheres having diverse perspectives that enrich the city.

Our preliminary thoughts after the workshop? Fulfilling certain wishes entails transformations that put public values under pressure. These tensions lead to controversies. To tackle controversies, stakeholders should debate and anticipate how these transformations occur, and how our interactions with the city and within the city evolve. Encouraging constructive dialogue to anticipate the effect of technology is essential to make an inclusive use of it.

We would like to thank our project partners for the nice collaboration and the workshop participants for their enthusiasm and input! On May 29th we will have a second workshop that will provide more results. We will keep you posted on our next steps!

If you are interested to know more details about these preliminary results, please send a message to Julieta Matos Castaño or Anouk Geneen.

24 April 2019 | Join us for a 'Tosti Talk' on Smart Cities

TOSTI TALK: SMART CITIES
28 MAY 2019 | 12:45 - 13:30
@ DESIGNLAB UNIVERSITY OF TWENTE

Curious about preliminary outcomes of our research, or responsible smart city design in general? Join us for a discussion in an informal setting next Tuesday 28 May, at DesignLab University of Twente. If you have any burning questions about this topic, here's your chance to discuss them with us first-hand!  

MORE INFO

More details can be found on the website of DesignLab and our Facebook event. 
Registration isn't required - just drop by, grap a 'tosti' and join us for the talk! Hoping to see you there.

Kind regards,
Julieta Matos Castano
Anouk Geenen

15 April 2019 | Getting to know our Research Partners: Aerovision

Smart City projects generate large amounts of data. However, to what extent does this data help to achieve the goals that the project intended to fulfill? How can we ensure that the collected data fits the purpose of the project? Our research partner Aerovision helps us to answer these questions. Interested in their perspective on this research project? Keep reading!

Public and private organizations acknowledge that to realize Smart City ambitions, accurate location-based information is required to make informed decisions about issues that require spatial solutions. What information fits our use? What is the best source of spatial information? What is the quality of data publicly available (Open Data)? How can the need for information be combined with other users? Answering these questions helps municipalities in decision-making and monitoring of smart city developments.

Climate challenges in urban areas are interesting in relation to smart cities and it is valuable to explore the role that geospatial data can play. For example, are our cities climate-proof? Can remote sensing data have an added value in providing a useful indication (index)? At the same time, municipalities must be assured that their information data service is mature enough to cope with smart city developments and the needs of their inhabitants.

In Aerovision, we assist organizations with defining their needs in smart city activities, based on their public or business goals. We help them to satisfy these needs by using smart sourcing strategies and investigating how geospatial data can have an added value to their projects. You may find an example of this process in the image below. 

We have 3 motivations to be part of this research project: (1) to create awareness of the potential of geospatial data in smart city projects, (2)  to learn more about the controversies that arise because of the use of technology in our cities (i.e.  privacy vs open data) exploring both social and ethical aspects, and (3) to develop concrete cases from stakeholders.

In this research project, our focus is on user needs elicitation. We will play an active role in user requirements elicitation with the relevant stakeholders, and the determination of relevant geo-information in smart city projects.  We hope to be the voice that tells you to ask yourself; why do I need data and is this really the data I need for that purpose?

24 March 2019 | Getting to know our research partners: Marxman Advocaten

"Who is the owner of collected data?" and "what about the privacy of people who can be seen on camera's"? - Smart City projects pose new questions emerging from the use of technology in our cities. In our research project, our partners Marxman Advocaten help us to answer them. Below you may find their viewpoint of the research project.

It is getting busier and busier in our cities. Where in the past traditional solutions were used (e.g. creation of new parking spaces), nowadays there is often literally no room for them anymore. A city, therefore, needs to come up with smarter solutions. Think of shared parking spaces or the smart handling of visitor flows using smart cameras. A 'city' therefore becomes a 'Smart City' at a fast pace.

These projects often get off to a flying start. Marxman Advocaten, a law firm with its main office in Amersfoort, often experiences that attention is paid to legislation and regulations at a late stage. Challenges are then often greater than initially thought. Just think of the (often complicated) rules in the field of privacy law. As a result, Smart City-projects are delayed or even forced to come to a standstill.

Research partner Marxman Advocaten has been advising on Smart City-projects for several years now. From 2016, the firm holds the European "Smart Cities Law Firm" certificate. The activities of Marxman Advocaten in a Smart City-project differs. Organizations often ask for support at the start of the project, so that they will not be faced with legal surprises later on. Advice is also given on more concrete questions. Think of questions such as: "Who is the owner of collected data?" and "What about the privacy of people who can be seen on camera's"?

The role of Marxman Advocaten in the research project consists first of informing the research team about the most important laws and regulations. The aim is to increase knowledge and awareness and to explain the intentions of the legislator. The research team is also given concrete advice on projects to be carried out.

Together with the research team and the project partners, Marxman Advocaten is happy to come up with recommendations that will ensure acceptance and support for Smart City-projects.

Visit the website for more information about Marxman Advocaten.

1 November 2018 | Julieta started her post doc

On November 1st, Julieta joined the team as a postdoctoral researcher. Below she introduces herself to the community! Welcome!  

Hello!

My name is Julieta Matos Castaño and I am the postdoctoral researcher working at the University of Twente. I am very excited to have joined this project!  

Prior to joining this project I have had experience in various countries and fields. Having a background in civil engineering, I decided to move to the Netherlands triggered by my interest in having international experience, and learning more about multi-stakeholder collaboration practices. In 2016, I obtained a PhD at the University of Twente, with a focus on stakeholder collaboration in complex infrastructure projects. In my research, I developed a collaboration tool to make the dilemmas of design and decision making explicit (called "the dilemma cube"). After my PhD, I worked as a change management consultant at multinational consultancy firm. During my consultancy time, I worked together with organizations to think and implement stakeholder engagement strategies throughout major change journeys.  

This postdoctoral position is an exciting opportunity to put in practice my previous experience, and creatively co-develop a collaboration platform with a very interesting group of stakeholders. I am particularly interested in supporting stakeholders to turn controversies into opportunities by making the implications of technology (at different levels) explicit.

The diverse nature of our project consortium, the relevance of the project to society, and the possibility of using creative approaches to achieve our project goals make this an incredible experience. I am looking forward to the upcoming 3 years!

1 September 2018 | Anouk has started PhD

Anouk Geenen joined the project to start working on her PhD. Welcome, Anouk! Below you can find a message from her: 

Hi!

My name is Anouk, and I will be working as a PhD on the project Designing for Controversies in Responsible Smart Cities.

I have a strong interdisciplinary background, with a BSc Liberal Arts and Sciences, and a MSc Theoretical Physics & Science in Society. Over the years I have had a growing interest in the societal and ethical aspects of technology. During my graduation project at the Rathenau Instituut I was able turn this interest into a research project, and I looked into the societal impact of the so-called Internet of Energy – where the energy transition and digitization meet.

With this project I have the opportunity to research and co-create a collaboration platform for the smart city Amersfoort. I will look at how to bring various stakeholders together in a meaningful way, in order to let them reflect upon the smart city technologies and co-create a future city together.

I am very excited about working with inspiring group of project partners in the coming years.
Contact
If you would like to receive more information about this project, please contact Julieta Matos Castano or Anouk Geenen.
dr.ir. J. Matos Castano (Julieta)
Researcher DesignLab