Friday 31 March 2023
How can robots contribute to more fun, lighter and pleasant cleaning work? That is what Thomas Raub and Roy van Zijl of the University of Twente are investigating by developing a robot. A challenging assignment, which they are carrying out as part of the Robotisation project of the Council for Labour Relations Cleaning and Window Cleaning Sector (RAS).

"By using a robot, the cleaner becomes more visible"
The RAS had been struggling for some time with the question of how to prepare the cleaning industry for the arrival of robots. Peter Bannink of the RAS: "Starting points were co-creation or involving the industry in the development of robots. Complementarity: not looking at what technology can do, but what do we want in the sector. And co-ownership: workers being co-owners of the robot. After an extensive preliminary process from 2017, in which various specialists were contacted, the RAS contacted UTwente. With that, a contract was concluded to conduct further research on robotisation in the cleaning industry, especially looking at the three starting points."
And that is how Raub and Van Zijl came into the picture, having successfully responded to the two vacancies issued. Raub has been involved in the Robotisation project from the end of 2020. Van Zijl joined in September 2021. Both may be involved in their own part of the project, each for roughly two years. The end goal is a functioning prototype of a robot that adds value to the cleaning industry.
Working and studying
They are both following an Engineering Doctorate (EngD) programme; a two-year post-Master designer course at UTwente to deepen their knowledge. Roy is doing this through Robotics and Thomas with Business and IT. Moreover, they take additional subjects, for example on social robotics and design methods. Working and studying is an ideal combination, they find. Van Zijl: "I wanted to gain practical experience. Make something, but also learn something. I love developing technology and helping people." The same goes for Raub. And, he says: "It's fun to investigate the impact of different technologies on the environment." The university was already familiar territory. Van Zijl did a master's in Mechanical Engineering here and Raub a master's in Industrial Design Engineering.
From brainstorming to prototype
Meanwhile, the project is well under way. After a period of brainstorming, researching, discussing, and translating insights into applicable tools, the project has entered its next phase: the development of a concrete prototype robot that can be tested in practice. This task lies with Van Zijl. To get to this point, Raub first mapped out what cleaners want, what they need and what they value. "How to use robots meaningfully in the cleaning industry, the original question of the RAS, depends on how they are designed. That goes beyond work relief and efficiency. It's also about how you do your job and that people keep enjoying their work."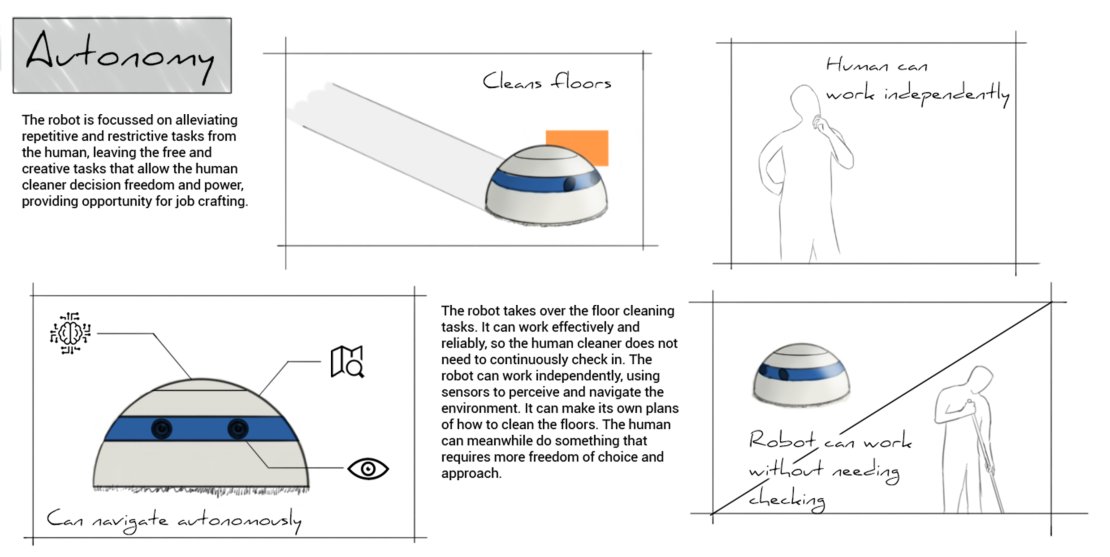 Social interaction
The interviews revealed that the cleaners  place a high value on social interaction. Raub: "With each other and with other users of the building. So that you can have a chat and feel part of a team. A robot should not come between that. Furthermore, they think autonomy is important. They don't want to have to follow all kinds of rigid rules from a robot or constantly check whether the robot is working properly." He continues: "In terms of tasks, cleaning floors and toilets are perceived as boring and less fun, so that's where they would like to put a robot. But it also emerged that it would be a nice 'bonus' if a robot could have a chat with the cleaners or play music."


Appreciation
The aspect of appreciation was mentioned frequently. Not a quality of a robot, but there is certainly an interface. Raub: "By using a robot, the cleaner becomes more visible. Perhaps he gets more respect because he works with a robot or more interaction with other people in the building occurs. The robot then plays an empowering role. The opposite is also possible. That people start thinking 'you do the work a machine can do'. You want to avoid that, of course." Van Zijl raises another sensitive point: "You look at how a robot can physically facilitate work and how it can, for example, make up for the shortage of workers. But without making people feel like they are being replaced. Because they're not." Raub adds: "The image that a robot can replace a human anytime, anywhere is not true. You always need humans in the workplace. It's about the cooperation between humans and robots. 'Make them colleagues and not competitors', someone said during one of the sessions we had. I like that statement."  
Going into practice yourself
Whereas Raub talked to cleaners, Van Zijl took a different route. He took basic cleaning training. This was possible because, unlike Raub, he was not hampered by restrictions due to the corona pandemic. "I wanted to experience for myself how things work in cleaning and not develop something from an 'ivory tower'. You also get more involved with the target group this way. You hear stories and anecdotes; you learn from that. What stood out during the training is that there is a lot of emphasis on ergonomic working."
Getting acquainted with practice, both men found it interesting and instructive. "I was quite surprised how complex cleaning work can be," admits Raub. "There are so many actions, mental and physical, involved. That's another reason why you can't automate cleaning work. We have to come up with solutions to make the work of cleaners better and more comfortable, instead of replacing it." Van Zijl: "What I enjoyed noticing is that cleaners are so enthusiastic about their work and really want to contribute to this project."
Simulating functions
With all the input gathered, the first concrete designs could be made. This started with manually making some sketches on paper. This was followed by 3D prints and a simple prototype. Van Zijl laughs. "That doesn't look very nice yet, but it does indicate what tasks and functions this robot will have in work." Occasionally, he has to help out himself. "By simulating functions. Then I control something myself, because it is too expensive to make some elements of a robot. That's how you try to put everything together." 
The 'builder' is about a year away from developing the prototypes. Cleaners can test them. Based on the results, adjustments are made. "You improve until you know that you have a prototype in your hands that really works, that is in demand and that can go to market." Van Zijl also works on systematic analysis. Because if you are going to deploy a robot in the cleaning workplace, this will have an effect on third parties and work processes. "Think about suppliers of materials and workload," he says. 
Comparing robots to pets
The researchers do their best to turn as many wishes into solutions as possible. Not everything is feasible, they immediately temper overly high expectations. "Sometimes the technology for this does not yet exist or is there but too expensive. And the 100 percent reliability rule is a nice wish, but it will not be fulfilled." Raub confirms: "Just like humans, robots also make mistakes." How? Van Zijl explains: "We compared this to pets. Like a dog, you can teach a robot something. But a robot sometimes also needs help because it gets stuck, just like a cat in a tree. Or you have a robot that gets by in a confined space, just like a hamster." 
Fuelling discussion
Although Raub was given a few months' grace because the project was delayed due to the corona crisis, the job is almost over for him. Van Zijl is still working on a final prototype. Once the final report is ready, it will go to the RAS, social partners and robot suppliers. The aim is to spark discussion on the use and usefulness of robots in the cleaning industry. The hope is that the prototype innovation will go into production.
Talks with suppliers, especially start-ups, are already being held. There is hesitation, both among the suppliers and the cleaning companies that will have to buy the robots and may be asked to start investing at an early stage. After all, is it worth investing? Raub: "This specific question has not been asked before. However, their investments are needed to develop the technology. This is why we asked the cleaning industry the question each time: is this the type of robot you can and want to work with?"
Support
Support is indispensable. With the manufacturer for the development, with the cleaning organisation for the investment, with the cleaners who must work with it and also with the customer, who has to deal with it. Even if the final prototype does not go into production, this research is useful, Raub believes. "Cleaning organisations and interest groups can put it to good use when exploring this topic area and starting the discussion about which way it should go with robotisation."
This article was originally published onlinemagazine.servicemanagement.nl,  written by Bianca Faber