Thursday 1 December 2022
A team of researchers and students from University of Twente, Delft University of Technology, Eindhoven University and the University of Leiden have won the Diversity Initiative Award from NWO for the project DEI4EAI (Diversity, Equity and Inclusion for Embodied AI). The award was presented at the NWO Science Awards, that was held for the third time. The Diversity Initiative Award is meant for initiatives that enhance diversity in the field. The initiators receive €50,000 to spend on the project.
Embodied AI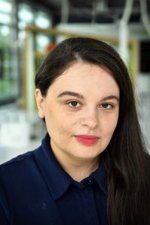 DEI4EAI (Diversity, Equity and Inclusion for Embodied AI), which is led by UT researcher Cristina Zaga, who is an assistant professor in the Human-Centred Design Group of the ET Faculty and is affiliated with UT's DesignLab,  is a research collective that focuses on the development, evaluation and policy of embodied AI and that fosters a diverse and inclusive culture. The collective uses a transdisciplinary approach, transcending the disciplines and cooperating with all the relevant stakeholders to define a desirable future. The jury is impressed by the high degree of diversity of the collective and the original approach to the problems of unintentional prejudice in AI applications. The jury commends the ways in which the collective is reaching a wide audience and the fact that the initiative is oriented not only to research but also to education.
4TU.NIRICT
The initiative is sponsored by the Diversity Fund of the 4TU.NIRICT centre. With a relatively small grant, the team realized four workshops and produced open-access resources readily available for the academic and societal community in embodied AI. The workshops reached more than 200 participants from the four technical universities and beyond, and they included international guests that helped attract attention to the matter. They produced an open-access booklet, a syllabus, and a series of videos available to the national and international community. These can be found on the project website.
The goal of 4TU.NIRICT is to strengthen and support collaboration among researchers and practitioners of the 4TU institutes working in the ICT domain. It promotes cross-disciplinary collaboration beyond institutional boundaries, as well as the diversity and inclusion of the Dutch ICT research community.
About the NWO Science Awards 2022
From 28 November to 2 December, NWO Domain Science (ENW) will award five special scientific prizes for the third time. The jury considers the winners to be a source of inspiration in the areas of societal impact, team science, excellent science, diversity and communication. The aim of the prizes is to reward scientists who make a great effort in these areas and to inspire others to do the same. Nine winners receive a total of €330,000.