Thursday 22 October 2020
The winners of the 'University of Twente Entrepreneurial Challenge' innovation competition were announced on Tuesday 20 October 2020, and the honour went to the CenBot, PLAEX and Awaves student teams. In addition, two wildcards were awarded for the national final, the Dutch 4TU Impact Challenge.
The final involved UT students pitching their innovative ideas to those involved. The pitches included more efficient nature preservation methods, an exoskeleton that serves as a chair, an AI application that helps students process large volumes of information, and more.
The UT Entrepreneurial Challenge is an innovation and enterprise competition open to all students at the University of Twente. Throughout this competition, their project work involved close collaboration with organisations and businesses. The students elevated their ideas, prototypes or start-ups to a whole new level with the help of coaching by business partners, workshops on matters varying from business plan to pitching, and an online speed dating event.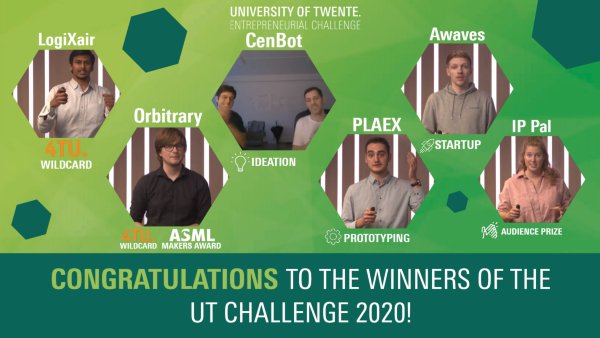 The winners
CenBot (Ideation category)
Project on an instrument for blood plasma stabilisation.
PLAEX (Prototyping award)
Awaves (Start-ups category)
An artificial DJ.
IP Pal (Audience award)
Orbitrary (ASML Makers Award + 4TU Impact Challenge wildcard)
LogiXair (second 4TU Impact Challenge wildcard)
Selection procedure
A total of 80 projects were submitted for the UT Challenge 2020. After an interim selection of the top 40, 20 finalists were eventually selected to take part in the (virtual) Grand Final. 
National final
At the (Virtual) Grand Final of the UT Challenge, two wildcards for the national Dutch 4TU Impact Challenge were awarded. This national final is a joint effort by the four technical universities (TU Delft, WUR, TU/E, UT) and will take place on 19 November. The winners will represent the Netherlands at the World Expo Dubai in 2021/2022, where they will present their ideas.