Monday 2 September 2019
Anyone who visited the University of Twente's on Monday morning, just hours before the Opening of the Academic Year, would be surprised by the number of bikes. Thousands of students, including 2.200 first year bachelor students, arrived for their first classes of the new academic year. "But, if we really want to meet the demands of society, student numbers need to double, at least", said Victor van der Chijs, chairman of the UT's Executive Board, at the official ceremony for the Opening of the Academic Year.
The Butterfly Effect
This year's theme for the OAY is 'the Butterfly Effect': any idea can lead to something unpredictably big and beautiful. It was primarily a call to students and researchers to dream and think big, and to embrace the unknown possibilities that the environment has to offer.
The University of Twente stimulates that entrepreneurial attitude amongst staff and students in various ways. Van der Chijs explained how the UT is working on a stronger collaboration with Saxion and ROC van Twente. But also the initiative for an ECIU University is a fine example, as students can make choices as a kind in a 'Netflix model' from the range of participating European innovative universities and their partners. "That offers an enormous number of possibilities in terms of internationalization and flexibility, but within a solid consortium."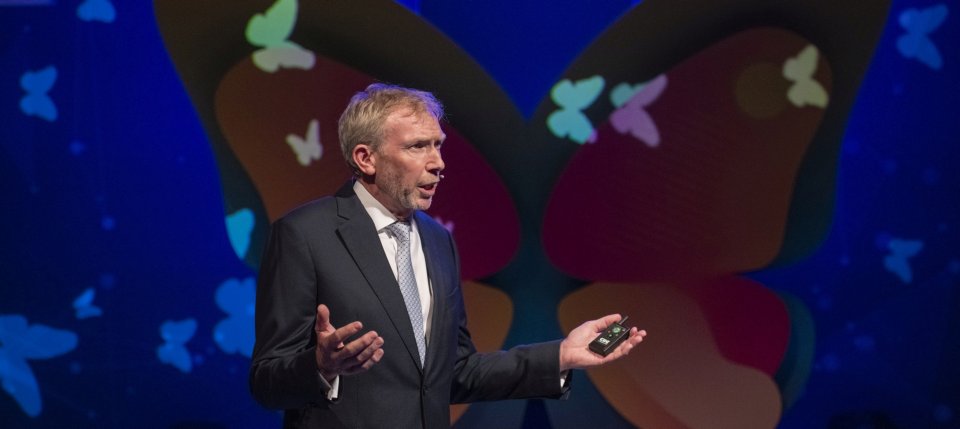 The collaboration with the other regional educational institutions and ECIU University fits well into the UT's plans for the future. Van der Chijs: "We aim to be an open university, with tailor-made and personal education, and adapting our way of working in such a way that we increase the independence of people. Over the past eight months, we have gathered many ideas within our Shaping2030 strategy trajectory, and various working groups are now developing the new strategy for the future based on this."
Limitations
But no matter how beautiful and interesting that development eems, the University of Twente balances between what it can to meet the demands of society as much as possible - "We want to be a civic university," Van der Chijs indicated - and the boundaries of what is possible and feasible. The number of new students rose again this year, with an expected 2,500 new first-year students. This is a 15 percent growth. Growth is also increasing at the other technical universities, albeit slightly less sharply. It is a big challenge for the universities. Van der Chijs: "As Executive Board, we sympathize with WOinActie, in which many higher education employees make themselves heard and hold their" Real Opening of the Academic Year ". We recognize the immense workload and the lack of resources to really be able to meet society's demands."
There is light at the end of the tunnel. Van der Chijs: "We are now talking nationally about a Future Fund, which could possibly offer some relief. The fact that research and innovation, in particular technological ones, are not only seen as costs but also as investments is encouraging. That is why I also call: if you have good ideas, bring them om. Then we will see how we can take them further. "
Future meets present
During the OAY an interesting encounter between Renée Meijer (student Electrical Engineering) and Cees Links took place. Cees is UT alumnus and founder of the WiFi technology which is indispensable in our lives nowadays. Meijer: "I don't know yet where I will end up, and I think that no one around me knows that about themselves. But as long as I work hard and do that with dedication, I am sure I will end up somewhere where I want to end up."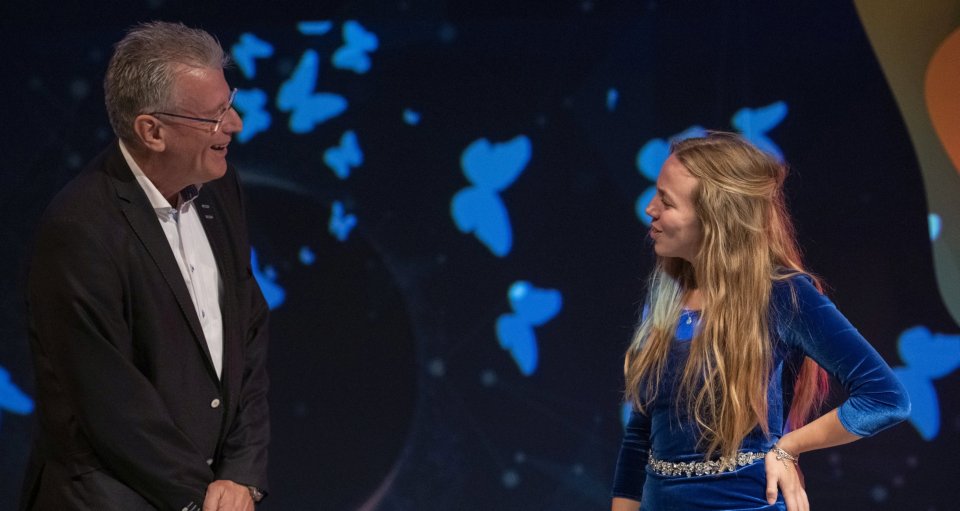 Cees Links, the keynote speaker of the afternoon, had a nice tip for Renée: "When I look back, wifi was actually quite easy to develop. But organizing everything around it was much harder. You can say that a good idea is more or less a minimum requirement. But being able to sell and market that idea makes all the difference. " Links sometimes notices cold fears about it. "Selling is often seen as something dirty for technicians. Car sellers, they do that. But the fact that someone else then has money for what you have developed shows just how valuable something is. "
The Opening of the Academic Year also marked the official start of the DesigLab's 5 Year Anniversary celebration activities. 

Academic prizes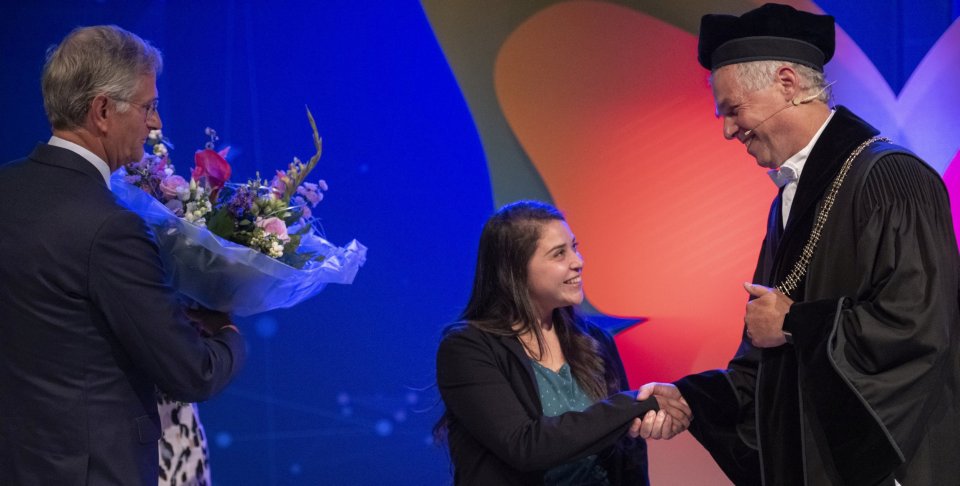 As has become a tradition, the Academic Year provides the stage for the award ceremony for the Academic Prizes: the Education Award was won by Ipek Seyran Topak (International Business Administration course), Kees Venner received the Brinksma Innovation Grant for an innovative teaching approach and the TGS Award (winner Patricia Reyes Benavides) as well as the graduation awards were awarded.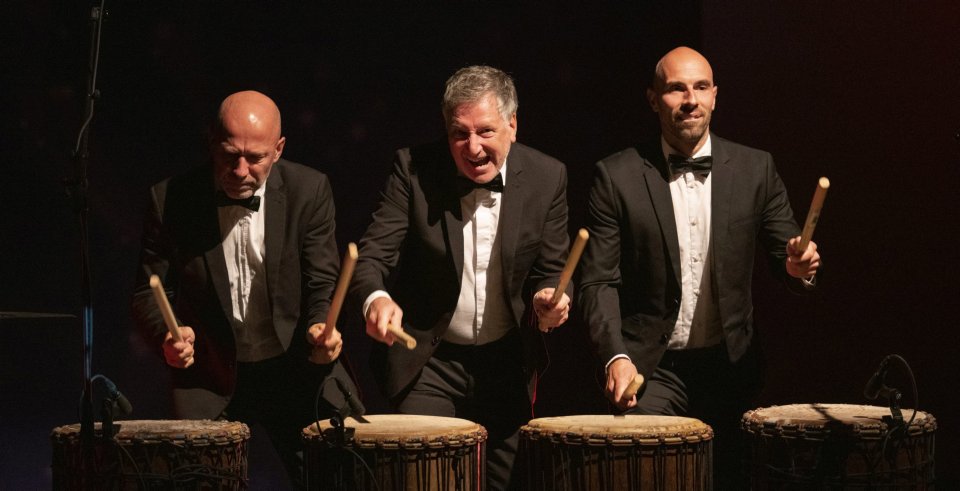 The percussion trio Drum People provided the musical interludes.
Photo credits Fokke Eenhoorn.