Friday 7 September 2018
The University of Twente and Province of Overijssel have signed a new agreement to foster innovation in governmental policies. It aims to explore answers to societal questions, using DesignLab's design methodology and the wide-ranging expertise of the universities research institutes and faculties. Topics to be explored include energy transition, climate adaptation, democratic participation and digital technologies.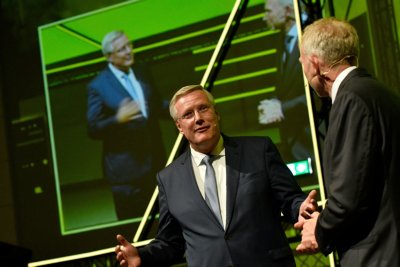 King's Commissioner for Overijssel Andries Heidema - pictured above, on the left-hand side - already teased the collaboration during Monday's Opening of the Academic Year ceremony. 'I believe it is the first ever collaboration between a university and a province of its kind,' says Frank Kresin, Managing Director of DesignLab. 


Although DesignLab is specifically mentioned in the agreement, Kresin points out that this collaboration requires close cooperation with research institutes and faculties of the university. He believes it can benefit the entire university. 'We have the methodology and the network. But the expertise lies within the faculties and research institutes'. Kresin claims input from a lot of different disciplines will be necessary, 'starting with behavioural sciences and ending with engineering'.
Interview utoday
More info on the next steps of this collaboration can be found in the U-Today interview Kresin gave: UT signs an agreement with Overijssel.