Wednesday 19 September 2018
With 85 students and professionals of 24 different nationalities, the ECIU Creathon 2018 was set to mix an exciting blend of diverse talent from the very start. Participants joined forces at DesignLab from 14-17 September for a creative marathon. Their focus: make regions smarter. From the future of mobility in Aalborg to dropouts in Twente, the creathon challenges proved to be as varied as its participants. An impression of an energetic weekend and its results.
Goal of the event – organised for the European Consortium of Innovative Universities (ECIU) and their triple-helix partners - was to develop solutions for the challenges various ECIU partners brought to the table. More on the idea behind and content of the event can be found in our previous news article.
VIDEO IMPRESSION
Watch our recap video (made by Enrico Bertolotti) for an impression of the atmosphere during the ECIU Creathon:
personal highlight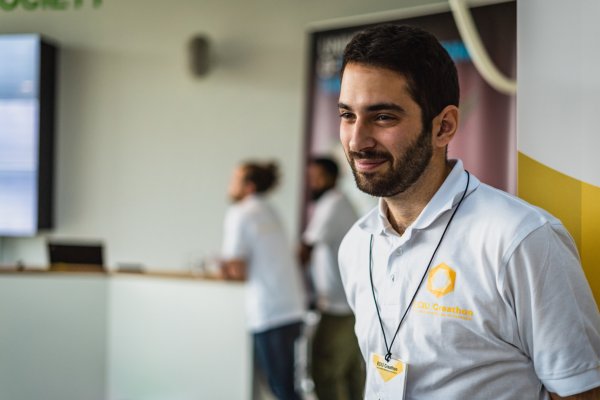 Photo: Enrico Bertolotti
Jorge Papanikolaou (pictured above) – DreamTeam Project Leader for the ECIU Creathon 2018 on behalf of DesignLab - looks back on an 'intense and successful' creative marathon. He mentions 'the powerful vibe' of the weekend as his personal highlight.
"The participants were very internationally oriented and open towards each other. An attitude befitting of DesignLab and the creathon concept: building on each other's skills and ideas in multidisciplinary teams. People met as strangers and left as friends."
VISUAL OVERVIEW
Co-organiser and DreamTeamer Athina Kapousouz visualised the diversity in participants through maps: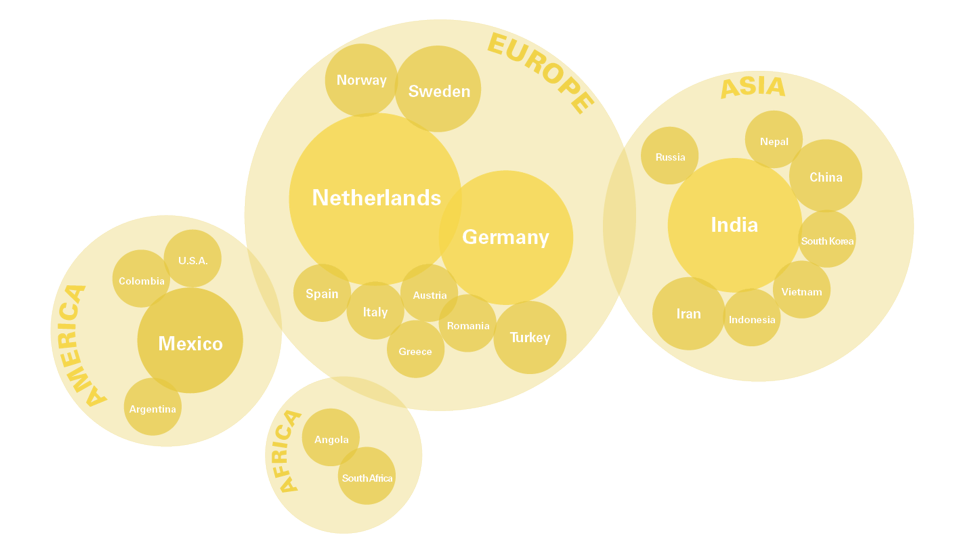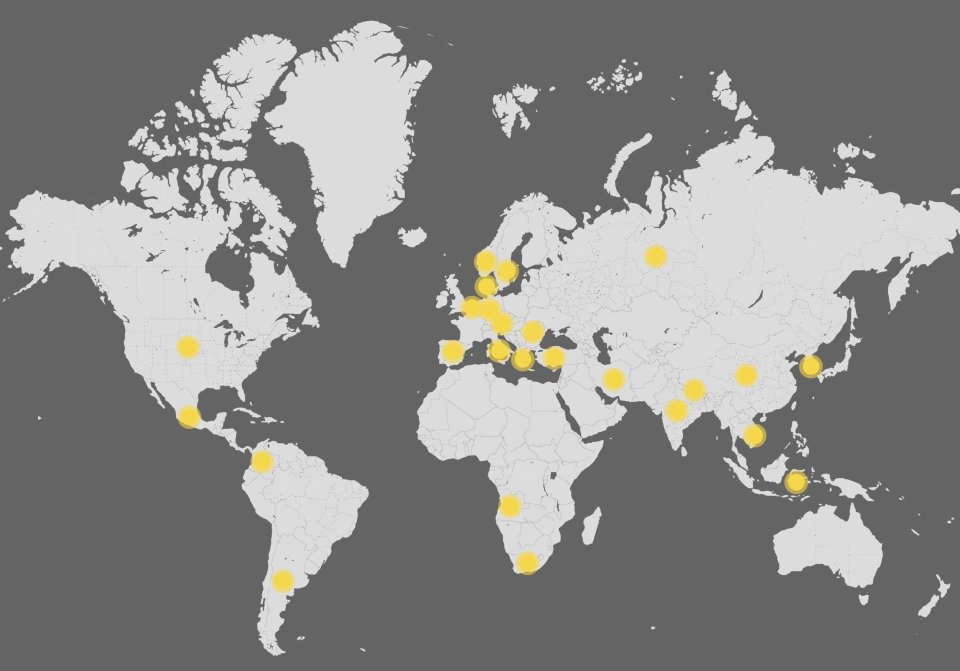 The diversity of nationalities present at the Creathon visualised in two maps.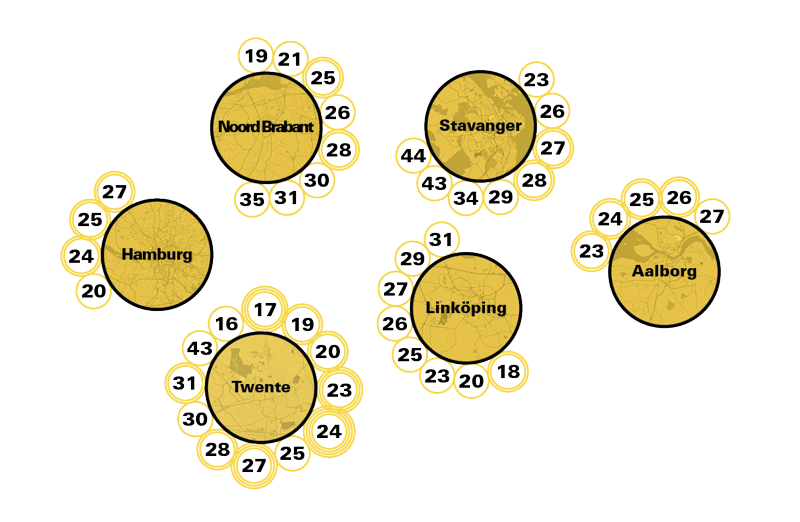 Age range of the participants per challenge. E.g. people in the age of 16-43 were working on the Twente Challenge.
WINNERS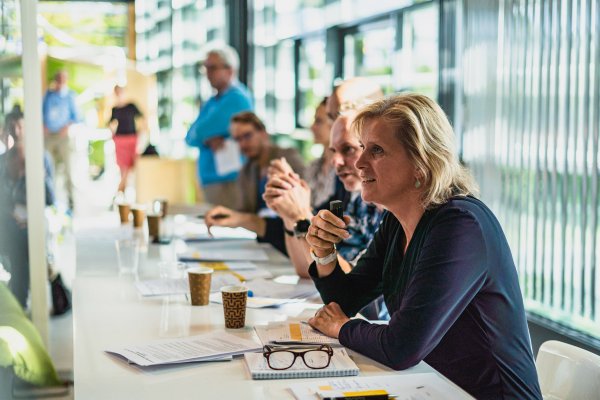 Photo: Enrico Bertolotti

All teams were working towards the moment of truth on Sunday: the final closing ceremony with pitches of the generated ideas.
A jury of professionals assessed the ideas based on four criteria: 1) Creativity & Novelty 2) Social Relevance 3) Economic feasibility 4) Impact Potential. The diversity of the challenges and enthusiasm of the teams during the pitches made a coherent jury decision difficult. In addition, members of the public could vote for their favourite.
The winner of the first prize (€ 1000) was Team Social Ignition, who worked on the case submitted by the city of Stavanger. The team - 2 students from Stavanger and 2 from Twente - came with a platform through which young parents can easily assess the best kindergarten options for their child. Immigrant families get insight into all options the city offers, including travel distances (times), public transport, and more personal choices and preferences.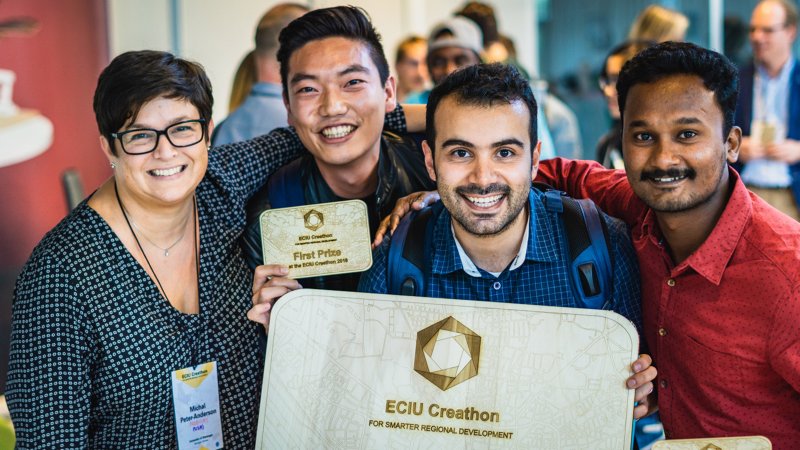 Photo: Ivette Tamez 

A full overview of the winners and description of the challenges are up at the 20Creathon Website. 
PHOTO IMPRESSION ECIU CREATHON 2018
Head over to our Photo Gallery for more visual impressions of the ECIU Creathon 2018. 
A WORD OF THANKS
DesignLab would like to thank the following partners for their contribution:
Main partners
Novel-T, Province of Overijssel
Professors and professionals
University of Twente, Gemeente Enschede, Hengelo, Almelo, City of Stavanger, Science Park Mjärdevi, TUTech, Province of Noord - Brabant, NIKOS, ITC
Participants from
University of Twente, Saxion, Avans, University of Stavanger, Aalborg University, Hamburg University of Technology, Linköping University
Data providers
Kennispunt Twente, Gemeentelijk Belastingkantoor Twente