Thursday 9 August 2018
The popular Dutch scientific magazine KIJK is on the look-out for the best tech idea from Dutch origin in 2018. It has selected a total of 20 inspiring projects from the Netherlands as contenders for the title. Among them is the robot vest for posture correction, developed by DesignLab Research Fellows Geke Ludden and Angelika Mader. 
The robot vest was designed by Ludden and Mader in close collaboration with fashion designer Hellen van Rees. A prototype was first introduced on the campus of University of Twente and a wider audience during the Fair FashionTech at DesignLab. The launch received wide attention from both press and public. 
OTHER ut contenders
Two other tech ideas related to University of Twente are nominated: the laser shoe and smart energy meter (UT-start-up Ipsum energy).
VOTe before 17 sept
The final winner is determined 50% by public vote and 50% by a professional jury. All nominees are up at the website of KIJK magazine. You can go and vote for your favourite there. 
If you'd like to vote for the robot vest:
Just add your email and click 'Stemmen'!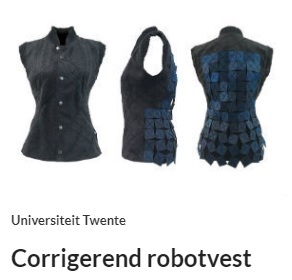 RESULTS IN NOVEMBER
The winner will be announced by KIJK, and visited by a film crew. On 22 November, the edition of KIJK Magazine outlining the ten best ideas is expected to hit the stores.