Thursday 8 March 2018
Not only does the gender debate play a leading role on Hollywood's red carpet, but also on the campus at the University of Twente. Florian Kleinhoven - 20-year-old Technology and Liberal Arts & Sciences major student and UN Women Representative - takes center stage as a strong advocate of the topic.
Together with fellow student Alexandra Bâtea, advisory organization Spectrum and DesignLab University of Twente, Kleinhoven is directing the event 'Is He or She?'. The event is set to take place on March 23, 2018 in support of the global HeForShe campaign by UN Women. HeForShe has men and boys express their ambition to achieve a gender equal world alongside women and girls.
In addition to organizing the event, Kleinhoven is shaping part of the program's content. He has managed to get an impressive array of speakers and companies involved. Mirjam Bult (Vice President of the University of Twente's Executive Board), Vanessa Evers (Professor of Human Media Interaction, Co-director DesignLab), Rabobank and Thales are all set to make an appearance.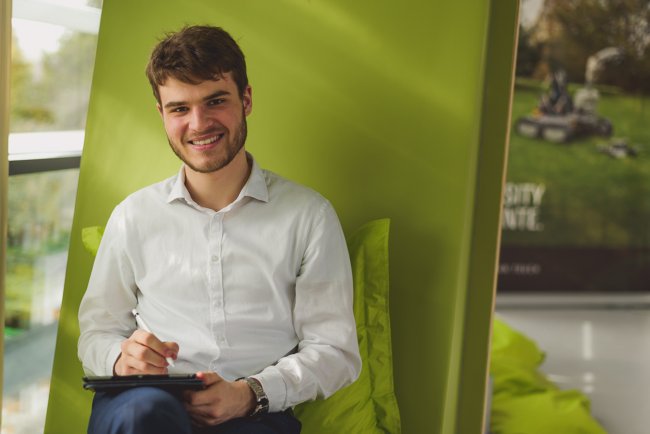 Student Florian (20) works on promoting the UN gender campaign #HeForShe from Twente, together with co-student Alexandra (not pictured).
Role models
Equality is a constant refrain in Kleinhoven's life: "There were no traditional gender roles in my upbringing." He was raised with a strong sense of justice. "And equality is justice," Kleinhoven adds.
All the more reason for him, as a man, to commit himself to furthering UN Women's cause. "Even the most hardened feminists would have to agree that if we are to achieve true equality between the sexes, men need to contribute. That is what HeForShe stands for: equal treatment of women and men is not just a women's issue, it's a human rights issue."
No #MeToo
The media are brimming with #MeToo. Kleinhoven wants to stress that this event targets issues broader than that discussion. "On the plus side, the reports on #MeToo are positively impacting public perceptions on the issue of diversity. Organizations are more willing to invest in working towards equity in their diversity policies." Though according to Kleinhoven, workplace realities have not caught up just yet. "Next to policies, we need an actual change in conscious behavior." This makes events like Is He or She? necessary.
"We want to raise awareness on gender stereotyping. By getting high school pupils, university students and experts involved in a workshop setting, we hope we can truly make a difference to companies' diversity policies." After March 23, we can measure the success.  
Is He or She?
March 23, 2018, 09:30 – 17:45
DesignLab
More info + free registration: utwente.nl/-he-or-she