Thursday 27 September 2018 19:30 - 21:30

A NIKOS-DESIGNLAB AUTUMN TALK BY KATHARINA HÖLZLE
Aiming at responding better, faster and more adequately to technological, market and user challenges, organisations struggle to find the 'right' enabling factors and practices to empower individuals, teams, and the organisation for creativity and innovation. Design thinking (DT) has been identified as a key resource for organizations in their search for innovation and has become a strategic tool for translating technoloAgical innovation into user value creating compelling product and service experiences. However, many organisations have not been able to redeem the promises of Design Thinking, wondering whether or not Design Thinking can in fact enhance creativity and innovation. Recent research has described Design Thinking as both a mindset and a method/process. 

This presentation will present a conceptual model for a Design Thinking Mindset building on social cognitive and creative engineering theory, using cognitive factors like optimism and openness to experience as well as behavioural traits such as empathy and creativity. In her presentation Katharina Hölzle will present first findings from a comprehensive qualitative study and discuss implications for organizations that want to accomplish that their employees become more Design Thinking minded, amd for developing a comprehensive measurement model for a Design Thinking Mindset
About the speaker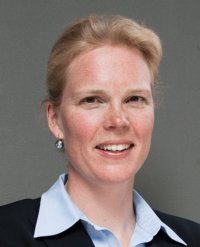 Prof. Dr. Katharina Hölzle, MBA is full-tenured Professor for Innovation Management and Entrepreneurship at the University of Potsdam. Before returning to university, she worked for several years in the semiconductor, management consulting, and eBusiness industry. She holds a Ph.D. from the Technische Universität of Berlin, a diploma in business engineering from the University of Karlsruhe (TH) and an MBA from the University of Georgia, Athens, Georgia
She teaches Entrepreneurship, Innovation and Technology management on a bachelor, master and executive level at national and international universities. Katharina is also coach at the HPI School of Design Thinking since 2009 and member of the Design Thinking Research Program since 2014. Since 2015, she is editor-in-chief of the Creativity and Innovation Management Journal. She has been a visiting professor to the University of International Business and Economics in Bejing, to the UTS Business School and Macquarie Graduate School of Management in Sydney.
Program
19.30 – Doors open and coffee/tea
19.45 – Welcome and introductions
20.00 – Lecture and discussion
21.00 – Drinks
21.30 – Closing
The "Season Talks" are a joint initiative of NIKOS and DESIGNLAB for a series of 4 interactive lectures per year, for students, staff, researchers in and outside UT, and industry contacts in Twente and beyond, covering topics on bridging Design, Management, Innovation and Entrepreneurship.