BME Master Programme 2018-2019
Research groups
The BME programme is based on the research themes of the TechMed Center, the research centre for Biomedical Engineering and Technical Medicine. BME students choose a course list together with their graduation professor from one of the TechMed center research groups*. Finally the chosen course lists:
Should reflect their interests and the contents of their graduation project
Forms a coherent programme, approved by their graduation professor
Contains a number of preapproved core BME/elective courses, but may also contain other master-level courses (subject to approval by the Board of Examiners)
Each list has to conform to the following minimum requirements:
All tracks are constructed in the following way:
Master year 1:
- 30 EC compulsory (6 courses green)
- 15 EC electives from a pre-structured group of elective courses (blue)
- 15 EC free choice of electives (see pre-approved electives). If students and their graduation professor would like to include any other courses that are outside the core BME curriculum, the student can submit this list for approval to the Board of Examiners. Please include a motivation for the selected course(s) and how these will relate to the final qualifications as a Biomedical Engineer. Where possible, also include information on how the courses will contribute toward the master's thesis.
- Master year 2: internship of 15 EC and master thesis of 45 EC. 
The tracks as of September are:
-              Bioengineering Technologies
-              Imaging and in Vitro Diagnostics
-              Physiological Signals and Systems
-              Biorobotics. This track offers 2 variations:
                o             BioRobotics - Design (with a stronger emphasis on design)
                o             BioRobotics - Robotics (with a stronger emphasis on robotics)
These proposals have yet to be formally stipulated. Students that started before September 2018 with their master, can finish their master according to the agreements made at the start of their Master's programme. If they prefer to change their course list, they are advised to contact the BME study advisor, Anneloes Dummer.
*with two additional MESA+ groups: MTG & BMEL.
Bioengineering Technologies track
Imaging en In Vitro Diagnostics track
Physiological Signals and Systems track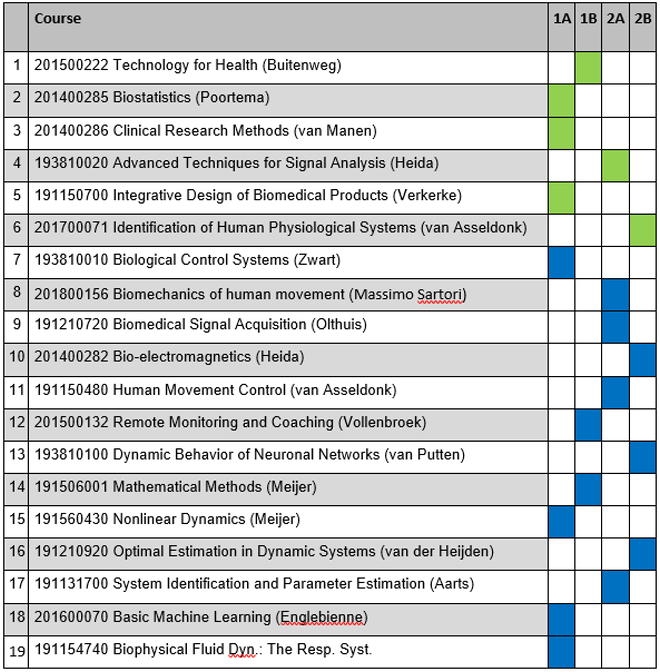 Biorobotics track (design variant)
The orange coloured courses are examples of the free electives students can choose 
Biorobotics track (robotics variant)
The orange coloured courses are examples of the free electives students can choose
List C: Approved Elective courses
Other courses may be chosen from the list below. This is an indication of appropriate courses, not an exhaustive list. Depending on your preferences and the contents of your graduation project, you may submit a an alternative proposal to the BME board of examiners.
Code

Course

EC

Lecturer

Quartile

N&M

I&D

BNT

193700050

5

Hempenius

3

 

 

x

191551161

6

van der Vegt

3

 

 

 

191210720

5

Olthuis

3

x

 

 

201700367

5

Alers

1,2,3,4







x

201400267

5

Various

1,2,3,4

x

 

 

201400270

5

Various

1,2,3,4

 

 

x

201400269

5

Various

1,2,3,4

x

 

 

201400268

5

Various

1,2,3,4

 

x

 

201400266

5

Various

1,2,3,4

 

 

x

201400271

5

Various

1,2,3,4

x

 

 

201400272

5

Various

1,2,3,4

 

 

x

201400273

5

Various

1,2,3,4

 

x

 

201400274

5

Various

1,2,3,4

 

 

 

201400275

5

Various

1,2,3,4

 

x

 

201400276

5

Various

1,2,3,4

 

x

 

201400174

5

Keulen

2,3










193735060

5

Lammertink

1

 

 

x

193810100

5

van Putten

4

x

 

 

193580020

5

van Gils

3

 

 

 

20170071

Previously

193810070

Identifiation of Human Physiological systems

5

van Asseldonk 

4

x

 

 

191210910

5

v.d. Heijden

3

 

x

 

191506001

5

Meijer

2




x

 

201200220

5

Prakash

2

 

x

x

191560430




5

van Gils

2

x







191157710




5

Loendersloot

1,2 

x

 

 

191551150

5

Bochev

2

 

x

 

191210920




5

v.d.Heijden

4

x




 

193572010




3

Versluis

2




 

 

193730040




Polymers and Material Science Practice




3

Hempenius

4

 

 

x

191131700




5

Aarts

3

x

 




191571090







5

Meinsma




1

x

x