The University of Twente believes in the importance of paying tribute to people who have carried out work of exceptional scientific or social merit. A special way to show our appreciation for these leading lights is by means of an honorary doctorate. This is a doctoral degree conferred on individuals who have shown an exceptional achievement in the world of science or in society at large, without having written a thesis on their work. It is an exceptional honour which makes leading scientists and entrepreneurs lifetime ambassadors for the University of Twente.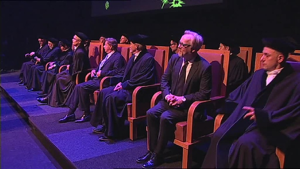 These honorary degrees are awarded as part of the university's Dies Natalis celebrations. A recipient of the doctorate may then use the title doctor honoris causa and put the letters Dr.h.c. in front of his or her name. Honorary supervisors designated by the faculty or school are also in attendance at the award ceremony.
The following exceptional individuals have been awarded an honorary doctorate by the University of Twente:
2022 
Debra Roberts 
One of the Co-Chairs of the Intergovernmental Panel on Climate Change (IPCC). She was identified as one of the 100 most influential people worldwide in climate policy...read more


Jaya Baloo
World leading expert in cyber security. She is currently Chief Information Securtiy Officer (CISO) at Avast. read more
Prof Wim van Saarloos
Theoretical physicist and former President of the Royal Netherlands of Arts and Sciences (KNAW). Initiator of changes in science in the Netherlands, by leading the reorganisation of Dutch Research Council NWO. read more
Prince Constantijn
'Special Envoy' for TechLeap.nl, formerly known as Startup Delta. He is an active ambassador of startup companies. read more
2016
Hugh Herr
Leading biomechatronics expert at the Media Lab at MIT, Cambridge Massachusetts. Ever since he lost both his lower legs caused by hypothermia during mountain climbing, he put a lot of effort in developing prostheses that he actually wears and tests himself.
 Neelie Kroes
Former Secretary of State, Minister, President of Nyenrode Business School, European Commissioner. Influencer in digital transformaten. Ambassador of startup companies, in 'Startup Delta'.
Christoph Gerber
Pioneer of microscopy techniques like Scanning Tunneling Microscopy (STM) and Atomic Force Microscopy (AFM). Member of the team of Gerd Binnig and Heinrich Rohrer, who received the Nobel Prize for STM. Gerber succeeded in transtorming their theories into working devices.
Edward Tufte
Statistician and artist, Professor emeritus at Yale University. He is known for his ideas on visualizing data. His books on 'good visualisation' are true standard works.
2011
Jamie Hyneman and Adam Savage (The MythBusters)
For Discovery Channel, they tested many 'urban myths': is it true, will it really work? For this, they developed spectacular experiments, preferably with explosions. Jamie and Adam, in this way, get lots of young people excited for science and technology
Helga Nowotny
Chair of the European Research Council until 2014, Professor of Social Studies of Science at the ETH Zurich. Prof Nowotny did a lot of research on the social, ethical and political implications of science and technology.
Wolfgang Knoll
As the Director of the Australian Institute of Technology (AIT), Wolfgang Knoll is a truly multidisciplinary physicist: he is a leading expert in materials science, biointerfaces and bionanotechnology.
† Henri Termeer (1946-2017)
Dutch pioneer in biotechnology. Former CEO of the US based company Genzyme, that develops so-called 'orphan drugs', medication for rare diseases and especially for children.
mw.prof. Ora Kedem 30 november 2007
dr. Gerard Holzmann 1 december 2006
mw.prof.dr. Sheila Sen Jasanoff 1 december 2006
prof.dr. Sung Wan Kim 1 december 2006
prof.dr. James Fraser Stoddart 1 december 2006
prof. Anthony Giddens 29 november 2002
prof.dr. George Whitesides 30 november 2001
dr. Vinton Cerf 30 november 2001
prof.dr. Manuel Castells 30 november 2001
prof. Hiroyuki Yoshikawa 29 november 1996
mr.drs. Marten Oosting 29 november 1996
prof.dr. Jean-Marie Lehn 29 november 1991
The following honorary doctors are deceased:
prof. R.M. Needham 29 november 1996
dr.J.A.P.G. Boot 29 november 1996
prof.dr. H.I. Ansoff 29 november 1991
prof.dr. A.D. de Groot 29 november 1991
prof. W.J. Kolff M.D., Ph.D. 28 november 1986
prof.dr. A.J. Staverman 28 november 1986
prof.mr.dr. B.V.A. Röling 27 november 1981
prof. F.J. Zuiderweg 27 november 1981
dr. H. Reinoud 27 november 1981