Friday 14 January 2022
Basel Precision Instruments GmbH (https://baspi.ch) is a spin-off of the University of Basel, Switzerland. BASPI offers some of the world's lowest noise and most stable lab electronic instruments and most efficient microwave filtering solutions for quantum and low-temperature experiments. BASPI's products are in use in over one hundred labs worldwide, making possible ground-breaking quantum experiments and giving researchers better control, lower electron temperatures, and significantly reduced noise. With a growing team, broadening customer base, and expanding product portfolio, BASPI is fueling the 2nd quantum revolution!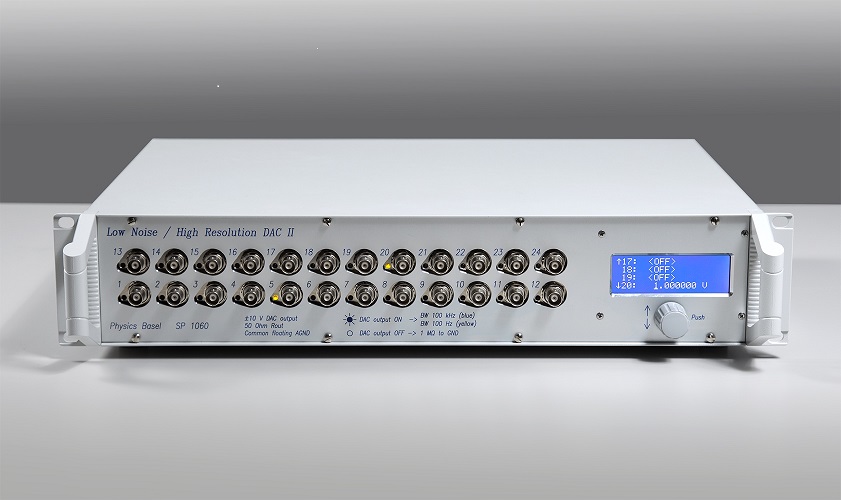 Within the framework of TOPSQUAD, BASPI has enjoyed collaborating with some of the world's top experts to develop instrumentation matching the needs of TOPSQUAD's challenging experiments. As a result of this collaboration, BASPI is releasing a new version of its LNHR DAC voltage source in 2022, with an increased number of channels (12 or 24), 1'000x higher speed (up to 100 kHz bandwidth), AWG functionality for fast scans, improved stability (at ppm level), still very low noise and several other features meeting the needs of today's quantum experiments. BASPI's new LNHR DACII is the best instrument on the market for controlling sensitive DC lines such as quantum gates. For orders In 2022, BASPI is offering the new DAC with introductory pricing at a 15% discount level.
As a small and growing company, BASPI is dedicated to educating and promoting young scientists and entrepreneurs and enhancing the number of females in high tech. Towards this end, and with the support of TOPSQUAD, BASPI is offering a number of secondment opportunities described here. We strongly encourage female students and young researchers to apply.