Wednesday 3 June 2020
IMS keeps growing! As part of the research program of the M3 Optoelectronic Materials group head by Assoc. Prof. Monica Morales-Masis, the construction of the CREATE thin film cluster tool has started in Nanolab.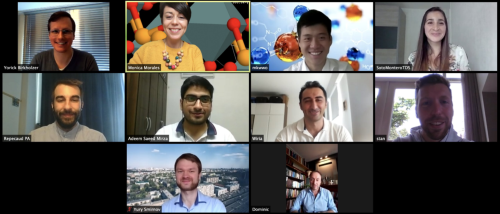 The CREATE cluster is being built within the frame  of the ERC Starting Grant - CREATE and Solar ERA NET - CUSTCO projects granted to Monica in 2019. The first one aims to synthesize and study hybrid halide perovskites thin films with a new in-vacuum method, and the second one to develop Transparent Conducting Oxides (TCOs) and selective contact layers. All for a large variety of optoelectronic devices including solar cells. 
While researchers are slowly allowed to return to campus and still mostly work from home, a great team of technicians and engineers is already working full-force on the expansion of our lab in NL 1037/39. The picture above shows the M3 Optoelectronic Materials group during an online group meeting, the picture below is a snapshot of the new TCO system from Solmates (https://solmates.nl), part of the CREATE thin film cluster, currently under construction. The CREATE cluster will also include a system from TSST (https://www.tsstsystems.com), which is yet under development. Along with the new tools, also the headcount of IMS is ever growing. As latest members to our group, we welcome dr. Wiria Soltanpoor and PhD candidate Adeem Mirza and hope to be able to greet them on campus soon.
The installation of the TCO system by Solmates has also been featured in PV Magazine:
https://www.pv-magazine.com/magazine-archive/tco-for-passivated-contacts/
To see our latest developments, follow us on Twitter and feel free to comment and share:
https://twitter.com/m3lab_