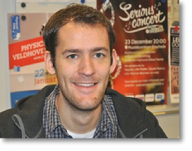 January 23rd, 2013 - BMPI welcomes a new master student: Paul Hamelmann.
Paul is a Biomedical Engineering student and his project in BMPI will be the last part of his master track in clinical physics.
Paul will investigate the 3D printing of a phantom that can be used to mimic the skin for measurements with the TOPcam or LSCI, two methods that are available in BMPI. With the model it can hopefully be investigated what the influence is of both the small capillaries as well as the bigger arterioles in the skin on the obtained measurement results. This can be of importance for various research projects for which the systems have been used or are currently being used. Examples are the investigation of burn marks, the investigation of psoriasis or the intraoperative measurements on bowels.
For more information about this project o other TOPcam or LSCI projects, please contact professor Wiendelt Steenbergen: w.steenbergen@utwente.nl.
BMPI wishes Paul good luck with his project in BMPI.