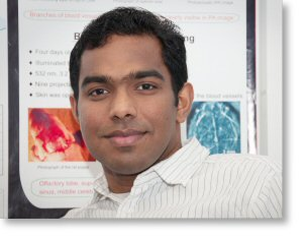 27 april 2010
Jithin Jose of the Biomedical Photonic Imaging (BMPI) group won the Best Student Poster Presentation Award in the Photoacoustic Imaging and Spectroscopy session at the Biomedical Optics (BIOMED) Topical Meeting held between April 11-14, 2010 in Miami, US. The awards were given to the best student poster presenters in each topical session who demonstrated outstanding research and scientific presentation skills in the Biomedical Optics field.

The Presentations were judged and scored by the BIOMED Technical Program Committee during the scheduled poster presentations. The scores were weighted according to the following formula: Technical content (50%), oral presentation quality and general poise (25%) and graphical presentation quality (25%). Jithin will be presented with a cash prize and a certificate of award.
The award is sponsored by The Optical Society and National Institutes of Health.
Details: http://www.osa.org/meetings/topicalmeetings/BIOMED/students/default.aspx
For further information regarding the presentation or the project, contact