upcoming
On the 14th of March, we will watch Portrait of a Lady on Fire (2019).  A heart-breaking period piece told with a distinctly modern feminist energy.
France in the late 18th century. Painter Marianne (Noémie Merlant) is commissioned by an affluent countess to paint the wedding portrait of her sheltered but headstrong daughter Héloïse (Adèle Haenel), in the hope it will find her a wealthy husband. While posing as her hired companion, Marianne is instructed to complete the portrait in secret, observing Héloïse by day and painting her by night. However, as the two women grow closer, their intimacy and attraction begins to blossom, paving the way for a simmering, star-crossed romance.
A heart-breaking period piece told with a distinctly modern feminist energy, Portrait of a Lady on Fire is the first female-directed film to win the Queer Palm at the Cannes Film Festival and cements Sciamma's reputation as a world-class filmmaker.
Our member Tessa selected this movie, they say: " "When you're observing me, who do you think I'm observing?" For this month's Movie with Pride I wanted to select a movie by a lesbian director that celebrates the female gaze - and you will see plenty of gazes between the beautiful leads as their love blossoms on their little private island (literally and figuratively). Next to the love story, I also like Portrait of a Lady on Fire (original title: Portrait de la Jeune Fille en Feu) for the other, often untold, story about friendship and mentorship between women."
Buy your tickets on the Concordia website. See you there!
Movie with Pride
Think with Pride UT, together with Concordia Enschede, starts the movie program "Movie with Pride". In the evening of the second Tuesday every month, we will bring (back) a movie that addresses sexual orientation, gender identity, gender expression and general queerness to the big screen in the beautiful and prestigeous arthouse movie theater of Concordia, right in Enschede's city center (Oude Markt 15).
With this program we hope to further promote diversity and inclusion by connecting LGBTQIA+ people and communities (especially us at the UT!) with a broader public and the region's cultural landscape. Next to fostering coherence and connections between people and in the queer community, we try to bring up awareness of, reflection on and discussions about some crucial topics that confront the current society, including sex/gender binarity, identity politics, patriarchy and capitalism. 
Movies here are clustered into three. Read below about the three sub-programs! 
The movie normally starts at 19:30 and you can enter the venue at 19:00. After the movie we will have ample time to chat, about the movie and about life, over some drinks. One ticket costs 10 euros, 7 euros with a student card. We promise the movies will always be in English, either in audio or with subtitles. 
We have tickets available for members who want to join but are not able to due to their financial situation. Please reach out if this applies to you.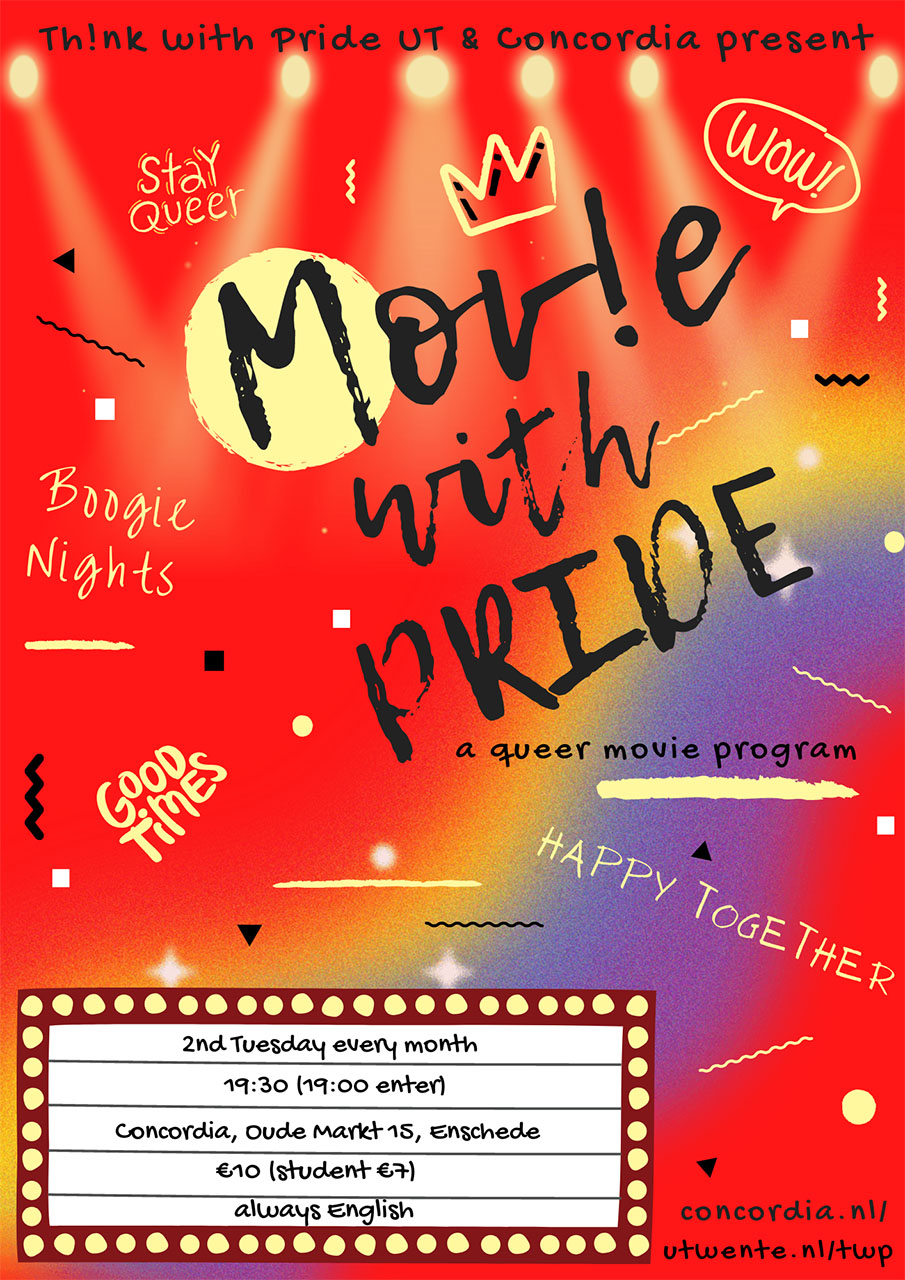 programs
Movie with Pride consists of three types of movie activities.
Queer classics
Our selections of classic queer movies - familiar ones like the Oscar winners Midnight Cowboy, Boys Don't Cry, Brokeback Mountain, Moonlight...; global pioneering queer movie-gems like the Swedish Fucking Åmål (aka Show Me Love), Spainish La mala educación (aka Bad Education), Hongkongese 春光乍洩 (aka Happy Together), French La Vie d'Adèle (aka Blue Is the Warmest Colour), Korean 아가씨 (aka Agassi; The Handmaiden), Belgian Girl...; and masterpieces from queer author-directors like Pedro Almodóvar, François Ozon (Dans la maison, aka In the House), Apichatpong Weerasethakul (สัตว์ประหลาด, aka Sat Pralat; Tropical Malady; ลุงบุญมีระลึกชาติ, aka Uncle Boonmee Who Can Recall His Past Lives), Tsai Ming-liang (河流, aka He Liu; The River), Gus Van Sant (Mala Noche; My Own Private Idaho; Milk)... - I can name so many of them!  
Queer share
Next to our selection, we invite people from the community, especially ones who are active at the UT and in Enschede region, to choose movies close to their hearts and share their movies with some personal talks and introductions. It should be a good occasion to get to know fellows who share similar stories, troubles, confusions and ambitions, meanwhile having perhaps interesting experiences in getting to know themselves and finding their ways of life.  
Queer now
When movies with prominent queer elements are scheduled in Concordia's own program, a special screening may be organized and included in the 'movie with pride' series next to the regular ones. The movie curator from Concordia will share with audience about how the movie connects to our queer/pride community.
our movies