Tuesday 11 April 2017
The TELT team (Technology Enhanced Learning & Teaching) organizes so-called TELT Expositions on location every now and then for our faculties.
The next TELT Expo will be for the personnel of the faculty of Electrical Engineering, Mathematics and Computer Science (EEMCS). We are organizing this in close cooperation with the EEMCS faculty.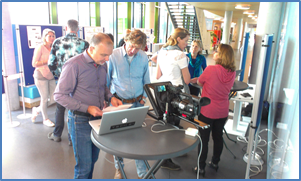 The TELT Expo is an event where you can walk in at any moment. We will show recent projects and innovations by means of posters, and you are free to ask any question you should have.
You are all welcome to join us, and see what we can do for you on
Thursday 4 May 2017
Hall B, in the corridor between Zilverling and Waaier
from 12.30 – 13.45 hrs
More information
If you want to discuss possibilities and ideas in person, please come to TELT Expo. To get acquainted with the TELT services please visit our website at http://www.utwente.nl/telt
The TELT team
Members of the TELT Team are Laura Bergmans, Martin Bosker, Eduardo Hermsen, Wytze Koopal, Ard Kosters, Marloes Luttikhuis, Bé Meerman, Chris Rouwenhorst, Karen Slotman, Dennis Vierkant, Arthur Veugelers, Martine ten Voorde – ter Braack and Petri de Willigen.
Organizers from EEMCS
Anna Sperotto, Aiko Pras