In balance with nature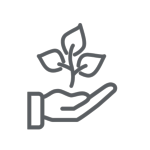 The University of Twente is based on the former Drienerlo estate, which measures approximately 146 hectares had features abundant greenery, offices, laboratories, classrooms, shops, sports facilities and housing. We work to preserve forest quality and the contrast between farmland (meadow) and the estate (park), maintaining the historical value of landscape elements such as the park, pinetum, forestland and tree-lined avenues, and creating ample open, green space.
All in all, the campus should not only be a great place to study and work, but it should also exist in balance with the animals and plants that have their home there.
PLANNING
Click to zoom in
MORE ABOUT BIODIVERSITY
FLORA AND FAUNA
In 2017, the flora and fauna on campus were inventoried, which led to the identification of territories of 51 species of breeding birds. Of these species, three are on the 2004 Red List of Endangered birds, namely the spotted flycatcher, the European green woodpecker and the willow tit. The nesting sites of the gray wagtail enjoy year-round protection, and the UT is home to one of them. Several grey heron nests were also found, and the campus is also home to a rather rare species in the eastern part of the Netherlands, the spotted woodpecker. Other birds that can be found populating the campus include the blackbird, wood pigeon, great tit, blue tit, common chiffchaff, wren and finch.
Furthermore, during the field study five bat species were found: common pipistrelle, serotine bat, common noctule, Nathusius' pipistrelle and Daubenton's bat. These are common species in the Netherlands. There is a large bat house along the cycling path behind the Westhorst.
Ecologist Gerard Lubbers talks about the population of bats on campus
Other species that call the campus home include the common green frog, brown frog, smooth newt and common toad. They can be found in the bank vegetation around water. Hedgehogs, squirrels and beech martens were also observed during the field visits.
PINETUM
Pinetum De Horstlanden, located on the Achterhorst on campus, features a collection of conifers from America, Europe and Asia.