Monday 27 September 2021
From Monday 11 October to Friday 15 October, ROC van Twente, Saxion University of Applied Sciences and the University of Twente together with various partners organise Sustainability Week. Students Reinier (ROC), Fleur (Saxion) and Jeroen (UT) explain what we can expect during this week. "We want to show that sustainability is no longer in its infancy." 
With Sustainability Week, ROC van Twente, Saxion and the University of Twente want to inspire participants to embrace sustainability. Together, the educational institutions organise activities in which students gain knowledge about sustainability, discover new topics and devise solutions for complex sustainability challenges.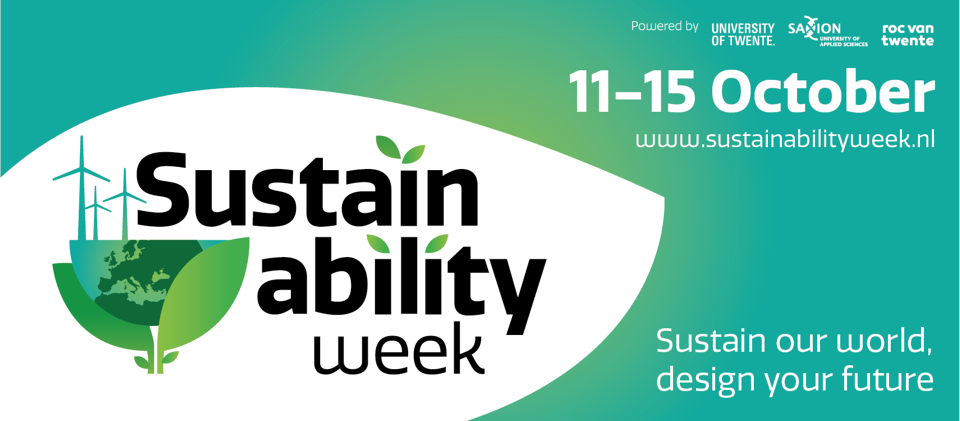 ROC van Twente: waste walks, guest lectures and sustainable coffee cups
On behalf of the Central Student Council, Reinier Huisjes is a member of the CSR platform of ROC van Twente and, in that capacity, involved in the organisation of Sustainability Week. He is studying civil engineering level 4 and sees that the building sector can become a lot more sustainable. "We live in houses that are not at all energy efficient," he explains. "They have a high loss value and as a result we have to burn a lot of gas." For his employer WEBO, he therefore develops a house in a 3D module that can be built as sustainably as possible. "You look at the choice of materials, for example, and make sure that it impacts the environment as little as possible. It is important to work with the future in mind. We really need to start living more sustainably now, so that our children can experience a better planet than the one we live on at present."
A lot happens at the ROC van Twente during Sustainability Week. "On Monday, we start with a breakfast for people involved with the organisation, which is provided by our catering department. We organise a number of waste walks, which will probably involve around 180 students, so that is also great. In addition, a number of companies, such as Brink Staalbouw, give guest lectures on how they implement sustainability in their business operations and we challenge our students to come up with alternatives for the coffee cups that we currently use. We do this in cooperation with Douwe Egberts."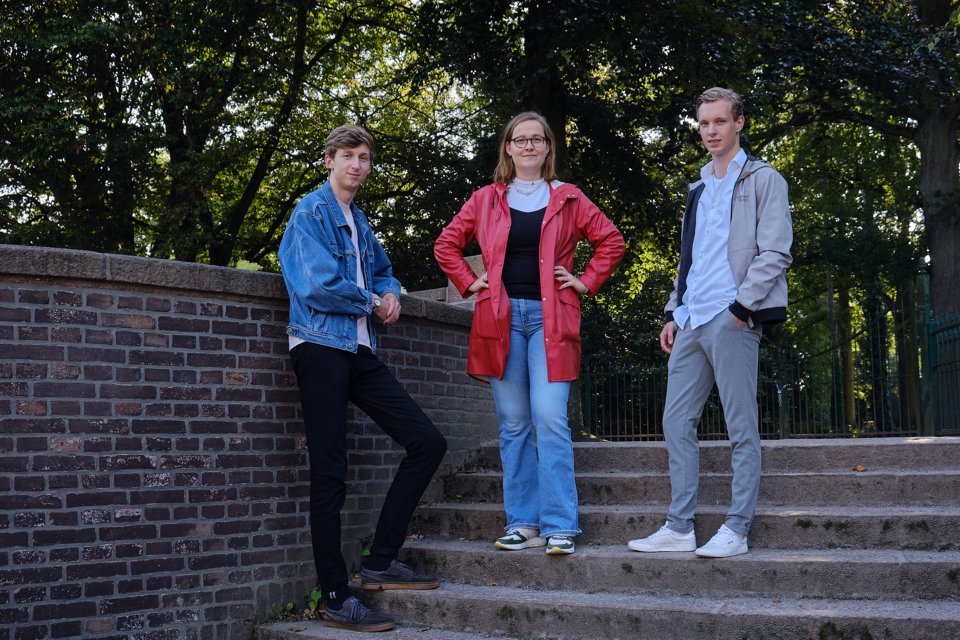 From left to right: Jeroen Boerma (UT), Fleur Willemse (Saxion) & Reinier Huisjes (ROC van Twente)
Saxion: 25 to 30 events
For Saxion University of Applied Sciences, Fleur Willemse is closely involved in organising Sustainability Week. She studies Industrial Product Design and is, among other things, responsible for events at the Saxion Green Office. As a young person, she says she is very aware of the crisis the world is currently in. "But I'm also very much about looking at things from the positive side. I believe that if you have a passion for sustainability and can explain in layman's terms how you can interact differently with the world, you can make much more of an impact than if you just tell yourself to eat vegan or reduce your emissions. If we do this well as students and as Green Office, we can inspire so many more people."
During Sustainability Week, events will take place at all three Saxion locations. "We organise sustainable talks, have poster presentations from research groups and students working on sustainable issues, hold workshops and have inspiring speakers like Extinction Rebellion. There is also a sustainable fashion show and you can swap clothes. We might have 25 to 30 events in total."
Aftermovie Sustainability Week 2019
University of Twente: academic and tangible
The University of Twente also organises various activities during Sustainability Week, with Jeroen Boerma at the centre of it all. He has a Master's degree in Applied Physics and helped organise the very first edition of the event two years ago. He aspires to a career in sustainability and wants to contribute to the energy transition. "That's why I wanted to invest in this during my studies and coincidentally, I know the UT's sustainability policy officer, so I asked her if she could use any help. The Green Hub Twente was set up last year and they could use help in organising Sustainability Week."
At the UT, several symposia will be held from 11 to 15 October, with scientists speaking about sustainability in their fields, plus an interactive workshop in the DesignLab the week before. Students can also participate in a bicycle tour along all kinds of sustainable restaurants and shops in Enschede. "We want an academic part, but we also try to make it tangible by organising things in which students themselves can participate."
Collaboration
Every fortnight Reinier, Fleur and Jeroen discuss their progress and see how they can help each other. "Collaboration is really key," explains Jeroen, with which the educational institutions simultaneously contribute to Goal 17 of the Sustainable Development Goals: to create partnerships to achieve goals. "We are trying to approach this week ever more seriously and professionally, because we want to show that sustainability is no longer in its infancy, but needs to be taken to a new level. We notice that cooperation is increasingly important to achieve that."