Tuesday 18 May 2021
Lansink Wegenbouw BV has been contracted by the University of Twente to make the campus a safer and bicycle-friendly environment. They will do this by adapting the road layout so that it meets the guidelines of a 30 km zone. The work will start on 24 May and is expected to be completed in early 2022.
In short, intersections and road sections are redesigned using the guidelines of a 30 km/h zone: traffic from the right has right of way and the road sections will have red bicycle lanes on both sides. The main entrance will also be redesigned. The junction Hallenweg - Drienerlolaan - Drienerbeeklaan will be reconstructed into an oval with more space for pedestrians and cyclists.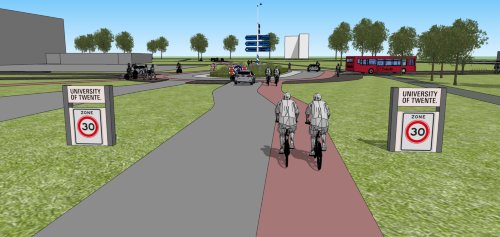 Closing of the main entrance
From Friday, 28 May onwards, the main entrance will be closed to all motorised traffic; a diversion will be put in place via Bosweg. Cyclists and pedestrians can temporarily continue to use the existing facilities. Drienerlolaan will also be reconstructed in the same period. This means that the entire Drienerlolaan will be closed to motorised traffic. This combined approach will limit the inconvenience for all users.
Sustainability
In this project Lansink will use our CO2-depleting asphalt mixture for the first time. They will also use cementless concrete products. Together with the UT, they will study the possibilities of climate adaptation. More information will be provided on this subject at a later date.
More information
Go to utwente.nl/30km-zone for more information. If you have any questions about this message or about the work that will be carried out, please contact the Central Servicedesk via servicedesk-cfm@utwente.nl / 053-489 2400.