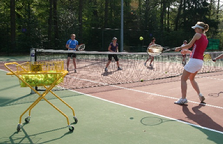 We have a diversity of tennis courses available, below you can find all the information about the tennis courses we have on offer. 
COURSE PERIODS:
1. 4 September - 12 November
2. 13 November - 4 February
3. 5 February - 15 April
4. 16 April - 24 June
REGISTRATION:
The online registration will start two weeks before the start of the course. Login to the Sports and Culture website or the app: Sports and Culture Utwente and click on courses in the shop! 

All information about the registration can be found here.
More information?
Tel: 053-4891148
E-mail: secr-sport@utwente.nl