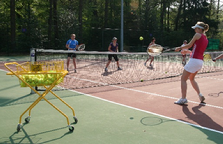 We have a diversity of tennis courses available, below you can find all the information about the tennis courses we have on offer. 
Course periods:
1. 31 August - 8 November
2. ONLY LEVEL 1, 2 and 3: 9 November - 31 January (with the exception of the Christmas holidays 21 December - 3 January)
3. No course in period 3!
4. 19 April - 27 June
REGISTRATION:
The online registration will start two weeks before the start of the course. Login to the DMS website and click for the courses on What's on offer.

All information about the registration can be found here.
More information?
Tel: 053-4891148
E-mail: secr-sport@utwente.nl