Thursday 1 April 2021
During the IPSERA conference, the project team had the opportunity to present the research outcome of the project's second interlectuall output (IO2). Within two sessions, the group presented the outcomes of the three World Café studies and the expert interviews.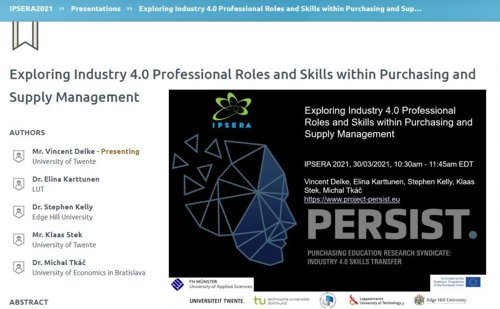 The conference is the annual meeting of the International Purchasing and Supply Education and Research Association (IPSERA), a multi-disciplinary network of academics and practitioners dedicated to developing knowledge concerning Purchasing and Supply Management. In 2021 the conference focused on Purchasing Innovation and Crisis Management and was organized online on Monday 29th March–Thursday 1st April 2021.
During the first presentation, the group addressed the explorative World Café results. Here, a total of nine professional roles, six operational, and seven strategic skills have been identified, which are needed within the future of purchasing in an Industry 4.0 scenario.
Further, the team presented the interviews' outcomes to build a framework for implementing gamification in Purchasing and Supply Management education. Based on a literature review and expert interviews, the outcomes show how gamified learning can contribute to a more effective and innovative competence development experience in PSM education.