Monday 30 March 2020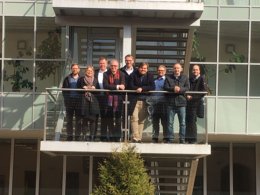 On March 5-6, 2020, the Faculty of Business Economics of the University of Economics in Bratislava organised 2nd Transnational project meeting which took place in Košice, Slovakia. Three months after the Kick-off meeting, the project partners came together to discuss administrative issues, evaluate the progress of the project, as well as the results of the first intellectual output, and plan further steps. 
The meeting was hosted by Michal Tkáč from the University of Economics in Bratislava. The participants include Holger Schiele, and Vincent Delke from the University of Twente, Elina Karttunen, and Jukka Hallikas  from the Lappeenranta University of Technology, and Stephen Kelly and Peter Vangorp from the Edge Hill University. Due to the COVID-19 threat the Natalia Straub and Dennis Meyer from the TU Dortmund were presented via teleconference. Special guests of the Faculty of Business Economics were Klaas Stek and Radoslav Delina. The meeting covered topics like administration and project management; results of first intellectual output; World cafe planning and execution and development of other intellectual outputs. 
After some welcoming words, the first discussions covered administrative topics like partner agreement finalisation, timesheet management and schedule adjustments. The University of Twente as a lead in project management presented all the issues, shortcomings and necessities that had to be addressed, and the consortium decided regarding further actions.
Just three months after the Kick-off meeting, the PERSIST project managed to show results in term of first white paper. Based on the comprehensive literature review conducted by the members of the consortium, the white paper provides theoretical analysis of Industry 4.0 oriented purchasing and supply management skills needed in the future business environment. Moreover, the second part of the paper provides a detailed literature review of gamification techniques used to train such skills. During the meeting, the partners discussed the results, and the finalisation and dissemination of this white paper.    
The main topic discussed during the second transnational meeting was the organisation of World cafés within intellectual output number two. Due to the COVID-19 threat several approaches and scenarios were proposed by the project partners regarding how to organise such multiplier event. One of the scenarios includes the organisation of virtual World Cafes, although to test the viability of this option, the consortium decided to organise a pilot study, where the project partners will act as participants of this pilot virtual Word Cafe. After the evaluation of the pilot study results, the consortium considers further steps.
Regardless of the COVID-19 outbreak, the PERSIST project is live and going forward adapting to new challenging environments providing results which can be helpful in shaping the future of purchasing.