Thursday 21 January 2021
A warm welcome
Desirée van Dun, assistant professor Change Management & Organisational Behaviour, knows how important it is to feel welcome. Years ago, she left the Betuwe region of the Netherlands to study at the UT - as an 18-year-old that felt a long way from home. The warm welcome she received at AEGEE-Enschede made her want to stay and expanded her view of the world. Through the European student association, she met students from many different countries. For Desirée, diversity and being open to other people's ideas is an academic skill. She asks Sterre Mkatini, recently appointed diversity & inclusion officer at the UT: how can we make the UT even more inclusive?
Desirée: 'Welcome to the UT, Sterre! I am impressed by your international experience.'
Sterre: 'My background in diversity and inclusion goes back to before I was born. I'm half Dutch, half South African. My parents met in Swaziland, where they both worked underground for the ANC in the fight for citizenship rights for the black population. I'm a third culture kid: born in Amsterdam, raised mainly in Sub-Saharan Africa – Zambia, Tanzania, Ghana. And I worked for various start-ups and social enterprises in several African countries. Promoting equal rights and opportunities for everyone has been my passion for a long time.'
Good energy
Desirée: 'I can feel your passion for this subject through the screen! Amazing! I'm delighted that we managed to bring your energy to the UT. How did you end up here?'
Sterre: 'My mother lives in Deventer. I was visiting her in the spring and got stuck here during the lockdown. I started thinking that it might be fun to live here for a while. An acquaintance forwarded me the vacancy for the diversity & inclusion officer at the UT. So cool! This time of Black Lives Matter emphasises how important these subjects are, and I'm keen to contribute.'
Desirée: 'How were you welcomed at the UT?'
Sterre: 'Mainly online actually. Originally, I was going to work as a sort of roving reporting - one week in the Design Lab, the next in the BMS faculty. To taste the culture, talk to people. Unfortunately, that wasn't possible. Now I mainly meet people online. I've been on campus four times. What I loved was the diversity week. I've worked in many countries where the LGBTIQ+ community is the devil. The fact that you can celebrate that diversity here, fight for it in a positive way, see that amazing rainbow, the flag... then I think: wow, I'm a part of this.'
A safe place
Desirée: 'What does interest me is: how can these symbols - the flag, a rainbow bench - help contribute to a more inclusive UT?'
Sterre: 'We want to build a community where everyone feels seen. Symbols can be an initial step. It's important to remember the goodwill that already exists - that's the basis. I often hear: "We really want this, but it's complicated." And it is. You not only need to make policy for people who are different from the majority, but also with them. And we need safe places where we can discuss these things.'
Desirée: 'That's exactly what the Minister of Education writes: we need safe spaces where people feel heard.'
Sterre: 'I'd love to be able to make that physical at the university, create a place with cushions and comfortable seats where you can discuss difficult subjects.'
Desirée: 'In the Ravelijn, we have something similar: a place with pouffes with the sustainable development goals printed on them. They are now in storage due to the coronacrisis, but perhaps you could do something with them.'
Sterre: 'Great! I'm also considering online alternatives. An Instagram takeover, for example, where we create a safe space every Tuesday afternoon. This is a time to be creative.'
New perspective
Desirée: 'Exactly. For me, diversity and being open to other people's ideas is also an academic skill. There are still some steps we need to take. According to a UT-survey two years ago, international students have difficulty feeling accepted. For example, some Dutch students don't like working with someone who speaks a different language. What can we do to embrace diversity more?'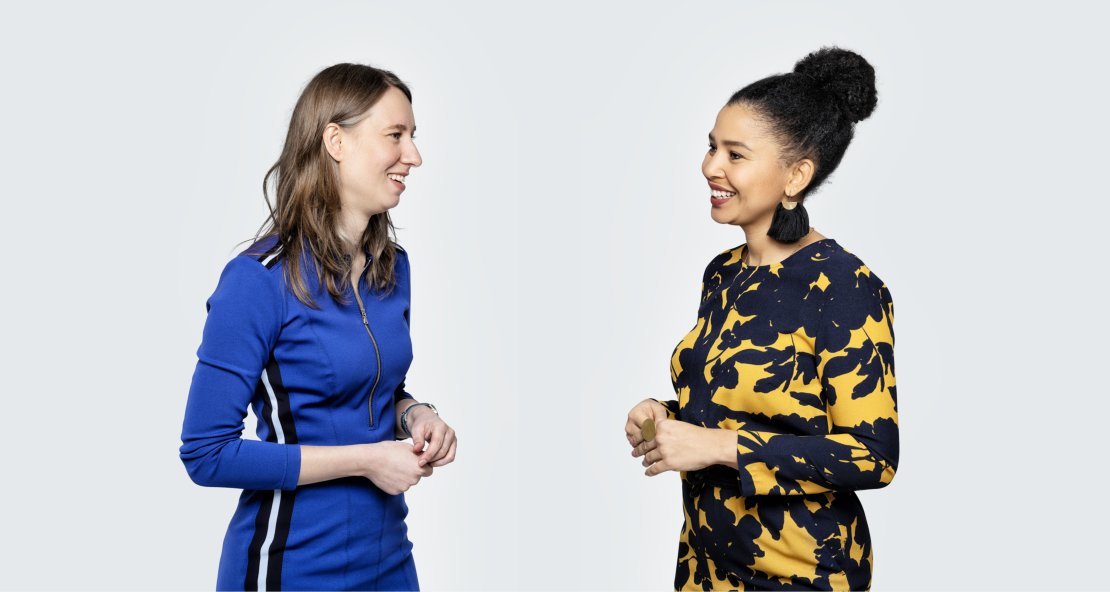 Sterre: 'Good question - my role is completely new at the UT. That's exciting but also overwhelming. Where do you start? I think that we could be milder in how we talk to each other. Don't immediately say: "that's racist", that doesn't help in a conversation. I'm also thinking about the decolonisation of our education. Why not use an Asian example, or a case from South America, instead of always Europe? This is another way you can make the curriculum more inclusive. The same applies to "queering"; consciously choose examples from the LGBTIQ+ community.'  
Laugh out loud at the kitchen table
Desirée: 'I love concrete tips like that. We'll soon start a new course, cross-cultural behaviour, in which I also use various examples. But that can always be done more and better. And I will do so! Sometimes I think: don't we talk too much? Shouldn't we experiment more? Take the number of women in academia. The UT is trying to welcome more women in all positions. We have the Hypathia chairs, there's a national network of female professors. And yet: if we continue at this pace, it will take until 2042 until the male/female ratio is 50/50. I read that yesterday at the kitchen table. My partner laughed out loud; how is that possible?!'
Sterre: 'Even though there are more female students than male. Family life plays an important role in this. Unfortunately, there are the same barriers as there were fifty years ago. At the UT, we must explore how we can help women. I have a two-year-old child, so I'm quite passionate about better childcare. But the university could also say: if you first want to focus on your family, take your time. We'll welcome you back when you're ready to focus on your career. Or give a female professor the option of spending more time at home during the first four years of her children's lives.
The fact that there is now a diversity and inclusion officer is also a step. I want the minority to feel welcome among the majority, and that the majority are on board to do this together. "Diversity is being invited to the party, inclusion is being invited to dance", I once read. That summarises it neatly.'