Introduction to online lecturing in BigBlueButton
You can give an online lecture using BigBlueButton (Canvas Conferences). As a teacher in the Canvas course, you have full control over your online lectures. We strongly recommend hosting sessions of 100 users (or less), as performance will degrade if you have a larger number of participants.
The BigBlueButton tool includes:
Basic features:
Video and audio communication to give a personal touch.
Powerpoint presentation to teach online.
Chat allows students to discuss topics for the whole group or answer individual questions.
Advanced features:
Polls can be created on the fly to assess the understanding of particular concepts. This is a great tool to keep students engaged with your online lectures. 
Multi-User White Board includes annotation tools for illustrating ideas and explaining processes.
Break Out Rooms can be used for smaller group activities and discussions (max. 24 breakout rooms).
Technical requirements AND ADVICE
For both moderators/presenters* and participants
Desktop/Laptop: The latest version of Chrome, Firefox or Edge
Mobile iOS (12.2+): Safari
Mobile Android (10.0+): Chrome
If you want to use screensharing: this only works on a desktop/laptop. Chrome or Firefox are recommended.
Good internet connection
Using a headset is recommended (employees can request one here)
Take these steps to optimize the technical conditions you can influence on your client to minimize problems:
Close all other (unused) programs like email, Word, Excel or Teams.
A running full scan of your virus programme can ask a lot of your CPU and memory. If possible, postpone or temporarily interrupt a running full scan during the conference.
Turn off your UT VPN connection
Close other browser tabs, they do take resources and might interfere with your session
Clear your browser cache and history
If possible connect with a cable to your router, instead of WIFI
If sound drops appear, refresh your browser window
If an external video is shared by the presenter, participants often have to start the video as well on their end since autostart is not always enabled in a browser.
*Additional advice for moderators/presenters
Control what your viewers can do in your conference session
Convert your slides to a PDF file and test them to prevent surprises
If sound drops appear, refresh your browser window and inform students about this
Only share one webcam if you have a large number of participants.
How to start
1. Enable BigBlueButton in your course
Go to your Course in Canvas.
Make sure the 'BigBlueButton' link is enabled for students in your course navigation.
For more information see: How do I manage Course Navigation links?
2. Get familiar with the tool
Create a practice conference for yourself without inviting all course members (deselect 'invite all members' on the Attendees tab). 
For more information on how to create a BigBlueButton conference in Canvas see: How do I create a conference in a course?
For more information about BigBlueButton functionalities you can watch the video introduction below:
3. Plan your online lecture
When you create a conference, all members in the course will be invited by default. If this is also desired in your online lecture, it is advised to 'Update the invited course members' not too long before the conference starts. Because the list of invited members will not be updated automatically when new students enroll in the course. That means that students who were enrolled in the course after you created the conference, will not see the link to the conference.
When you don't want to invite all course members, deselect the 'Invite all course members' checkbox on the Attendees tab and select the students, groups or sections you want to invite.
Inform your students in advance about the date and time of the session and when the link to the conference will be available (you can choose to add the conference in the course calendar).
Include instructions for the students using this link: information about Conferences from a student perspective. 
You can also share this video with your students:
4. Update invited course members
For a conference that needs to be visible for all course members, it's good practice to update the list of invited students half an hour or so before the conference will start (because students who have enrolled in the course after the conference was created will not see the conference link). This is especially recommended at the start of the quartile when new students will enroll each day.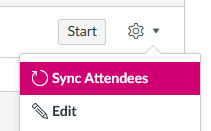 To do so, click the settings icon and select 'Sync attendees'.
5. Start a conference
Click the button Start to start a conference. Students can then join the conference.
6. How to allow students to share their webcams
By default, students can't turn on their webcams due to privacy rules. If you anyhow want to see your students, keep in mind the rules around protecting the privacy of your students when recording lectures.
To turn on the option to let students share their webcams go to 'Settings' button, next to the 'Users' overview, and select 'Lock viewers':
Unlock the option 'Share webcam' , and click 'Apply':
To temporarily unlock an individual viewer, select their avatar from the users list and choose Unlock. 
Visit this page to learn more about (un)locking viewer's abilities.
7. Record a conference
Important: Please take the Lecture Recording Privacy Rules into account to ensure that you protect the privacy of your students and your staff.
In order to record a conference, the option 'Enable recording' needs to be checked when the conference is created. This is the default setting. Do not forget to click 'Start recording' once the conference has been started:

Once a recording is finished, it will become available shortly after the conference is ended and moved to the Concluded conferences. In most cases a recording will take the same amount of time to process as the duration of the live session. Student (viewer) names are anonymized in the chat area of a processed BigBlueButton recording. 
Who can see the recording?
Only students who were invited to the conference can see the link to the recording under Concluded conferences. Members who were invited do not need to attend the live session to see the associated recordings. For not-invited students that should be able to see the recording: you can copy the URL of the recording and publish it somewhere else in your course. To copy the URL:
Click on the triangle before the name of the conference. A 'video' link will appear.
Click on the video link and copy the URL from the browser address bar.
Publish the URL in the course, for example in Modules.
Need support?
If you have any questions left, please contact your faculty's E-Learning Specialist or consult the manuals: