Worldwide, almost 70% of the produced elastomers (rubbers) is used in tires. Therefore rubber technology and tire technology are strongly linked. The ability of tires to transfer forces and moments to the road, to absorb irregularities and impairments and to adapt to largely varying circumstances is mainly due to the rubber material behavior and composition of the tire.
A tire is build from different components:
Rubber layers for tire tread, cheeks, lining, rim rubber, etc;
Textile layers (fixation of tire shape under pressure);
Steel bead wires (fixation and sealing to rim and stabilization of tread).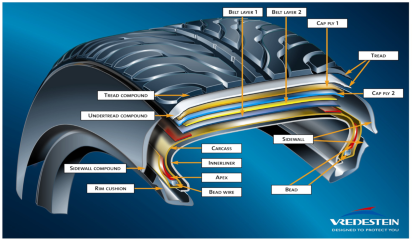 Exploded view of tire: over 40 compounds and 14 different reinforcement materials (nylon, rayon, polyester, steel) (courtesy of Apollo Vredestein B.V.)
A good and accurate model of the whole tire requires a detailed description of all different components, regarding geometry, material properties and adhesion between the different components. Within the Tire-Road Consortium, the research chair Elastomer Technology and Engineering focuses on the following research subjects:
influence of various components and mixing procedures on the properties of various rubber tire components;
characterization of the dynamic – mechanical behavior of these components, which serve as basis for related numerical models (e.g. tire-road noise)
research on improved or new bonding techniques (chemical or mechanical) for the rubber and reinforcements (e.g. fillers, steel cords, textile layers);
construction and composition of the tire and its influence on the tire-road interaction.