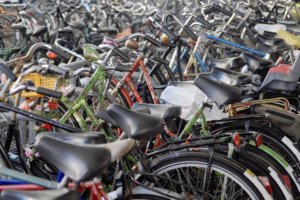 | | |
| --- | --- |
| Funding | SWOV |
| Project | Road Safety for Cyclists in Dutch Cities |
| Timeline | 2019-2023 |
| Supervisor | |
| PhD student | Teun Uijtdewilligen |
Abstract
The Netherlands is well-known for cycling. All together the Dutch own over 22 million bicycles with a population of 17 million people. Almost a quarter of the Dutch population cycles every day. In the Netherlands, the use of the bicycle is increasing in many Dutch cities. Cycle paths have become noticeably busier with a stronger variety in the types of bicycles (such as cargo bike, pedal-assist electric bike, speed pedelec) and in cycling speeds.  Large cities in the Netherlands are growing and becoming more densely populated. Cities such as Amsterdam, Utrecht and The Hague are planning large housing locations within the existing city. At the same time, the population in cities is ageing as in the rest of the country. The combination of these factors will result in an increase in cycling and car traffic in cities, and increase in bicycle use by elderly and increasing traffic safety issues.  A cyclist is a vulnerable road user as it uses a two wheeler – a balance vehicle – without any impact protection. In recent years, the number of fatal and serious traffic accidents of cyclists have increased substantially and the trends described here are likely to increase traffic crashes for cyclists in cities. 
The aim of this PhD project is to examine cyclist's road safety in Dutch cities and possible improvements of road safety for cyclist in urban and transport planning.
The PhD research will involve analysis of cycling road safety and risk levels for a selection of Dutch cities with growing cycling flows. The analysis will comprise a combination of secondary and primary data sets on road traffic, cycling traffic flows, type of road and road safety dat.. State-of-the-art data collection methods using as smartphone apps and GPS sensors will be explored. The case studies will be conducted in collaboration with local authorities.
This PhD project is a collaboration between the Dutch Road Safety Institute (SWOV - Instituut voor Wetenschappelijk Onderzoek Verkeersveiligheid) and the Department of Civil Engineering of the University of Twente.
PhD supervisor: prof. dr. Karst Geurs, University of Twente; k.t.geurs@utwente.nl
PhD student: Teun Uijtdewilligen.