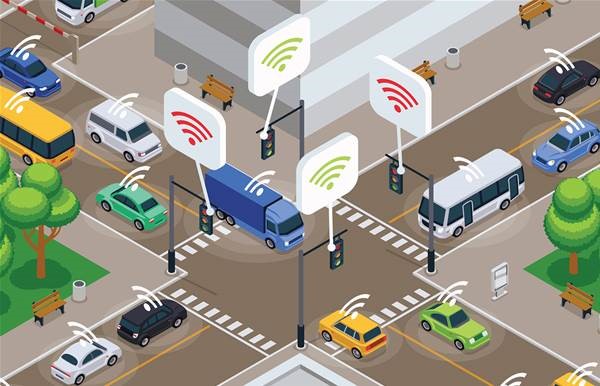 | | |
| --- | --- |
| Funding | Provincie Overijssel |
| Project | Talking Traffic, TINA-4 |
| Timeline | 2020-2021 |
| Supervisor | |
| Daily supervisor | |
| Student Assistant | |
Abstract
The Talking Traffic project will investigate the potential of intelligent traffic light systems to the improvement of operations of logistic providers. Every time a truck stops at a traffic light, it incurs an extra cost of approximately one euro. Talking Traffic will install 27 intelligent traffic lights on and near the ring of Almelo to provide priority to trucks in order to reduce their number of stops. This will lead to the conversion of the existing traffic control systems into intelligent traffic control systems (iVRIs). With pre-5G, and later 5G, intelligent traffic lights will be able to communicate with road users and other traffic lights.
The installation of the traffic lights will be completed by the end of March, 2020. At the beginning, a limited number of trucks will install an application to communicate with the intelligent traffic lights. The number of connected trucks will increase throughout the project. This will allow us to investigate the potential benefit to the operations of connected trucks and the potential negative effects to the operations of other transport modes (e.g., car, bicycle, and pedestrian traffic).
The project partners of Talking Traffic include: the Provincie Overijssel, Universiteit Twente, TLN, Sweco, Talking Logistics, Gemeente Hengelo, Gemeente Almelo, EVOfenedex, Bolk, Bolletje, Tielbeke. University of Twente will receive two types of datasets:
·         Traffic data from the 27 intersections with the intelligent traffic light systems
·         Data from connected trucks regarding their stops at intelligent traffic lights, their delays, their speeds, and their fuel consumption.
University of Twente will analyse these datasets to investigate the effect of green light phases provided to connected trucks to:
·         the operations of connected trucks, and
·         the general traffic (car, bicycle, walking).
More information: k.gkiotsalitis@utwente.nl