Tuesday 3 May 2022
The Radio Systems group of the University of Twente is focusing on Wireless Communications and Sensing. Research and education are focused on Radio Propagation and Channel Modelling, Antenna Systems, and Signal Processing. Application areas are 5G/6G, Radar and Health monitoring. Our aim is to interconnect anything, anywhere, anytime under all conditions and to exploit unobtrusive wireless monitoring for health monitoring and increasing safety and security.
This is the second edition of our newsletter, that will appear every 6 months. The aim of this newsletter is to inform people from both academia and companies about our research and educational activities. We will also share more general information concerning interesting conferences and developments.
If you have something to share in the next newsletter, if you want to put a team, a person or a project in the spotlight, or if you have any other suggestions, please let us know.
News
NEW PROJECTS
Anastasia Lavrenko received a prestigious NWO VENI grant for her project entitled "Beyond bugging: wireless sensing and monitoring with harmonic radar". More information on this project can be found below.
Successful MSc. defenses
November 17, 2021: Jan Willem Nijhuis on "Modelling, Characterizing and Evaluating the Wireless Link of the On-Patient Monitor".
December 10, 2021: Pieter Dijkshoorn on "Low Power ASIC Design of a DDPSK Demodulator".
Successful Internship Closure MSc.
December 2021: Miquel Selles Valls, Xsens & RS, "Contact-free Localization and Tracking of Humans Using Off-the-Shelf mmWave MIMO Radar".
Successful BSc Thesis Defense
January 2022: Lars Oberhofer, VoloPort DE & RS, "Optimizing the large-volume data transfer between the landing eVTOL and the ground infrastructure using Wi-Fi".
Congratulations all! We wish you all the best for the rest of your careers.
New PhD candidates
The following candidates have started their PhD. within the Radio Systems group. They will work within the 5VC project.
Alejandro Anton Ruiz
Reza Gheybi Zamagh
guest researchers
We are glad to welcome our guest researchers:
Kai Mao – who is studying data-driven unmanned aerial vehicle (UAV) channel modeling, characterization and predicting.
Hang Mi – who will work on data fusion of camera, lidar and mmWave radios, a collaboration with the US partners and Yang Miao.
more to welcome
We also welcome:
Bachelor EE student Jelle Wilbrink to join our group for his bachelor thesis
Master EEstudent Miquel Selles Valls who starts his master thesis: "A comparative analysis on the mmWave MIMO radar and communication device on performances of contact-free target recognition, tracking and vital sign monitoring", a multidisciplinary collaboration with Biomedical Signals and Systems, Biomechanical Engineering, and KULeuven.  Congrats Miquel who has submitted a paper on "target recognition via mmWave MIMO radar: is it a human or a robot? " to IEEE Globecom 2022.
Farewell Siavash Safapourhajari
On February 25th, we said goodbye to our highly valued colleague Siavash Safapourhajari. To broaden his view, Siavash accepted a job in industry. During his time within the Radio Systems group, Siavash showed great commitment to both Education and Research. Siavash was involved in modules 8 and 11 of the Electrical Engineering bachelor program, where he contributed to the digital signal processing parts of these modules. Furthermore, he was very active in supervision of bachelor, master and PhD students and was developing his own research program by initiating new projects. Furthermore, it was a true pleasure to have Siavash as a colleague. It was a true pleasure to have Siavash as a colleague. We thank Siavash for all his contributions and wish him success in his new job!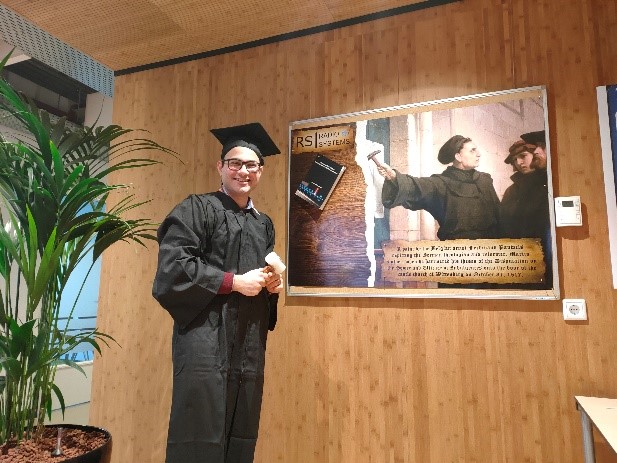 Events
Visited conferences
A. Lavrenko presented her paper "Lateral Location Estimation Accuracy in TOF-based Localization Systems with 3D Geometry" at Asilomar Conference on Signals, Systems, and Computers in November 2021.


On the 28th of March, Dr. Yang Miao, an assistant professor in the RS group, organized and co-chaired a convened session on "Towards 6G Joint Communication and Sensing in Radio Propagaion Perspectives" at 2022 EuCAP conference in Madrid.


H. Alidoustaghdam presented his paper "Integrating TDD Communication and Radar Sensing in Co-Located Planar Array: A Genetic Algorithm Enabled Aperture Design", 2nd IEEE International Symposium on Joint Communications & Sensing (JC&S) March 2022 in Austria.
Upcoming events
In the picture
"Beyond bugging: wireless sensing and monitoring with harmonic radar"
Remote, non-contact, wireless monitoring is becoming a common feature of many industrial, agricultural, environmental and societal systems. Despite a variety of commercially available solutions, there are still significant gaps in the technology landscape when it comes to tracking of small wildlife for ecological and conservation research, search and rescue, and buried infrastructure control. The main difficulties in these applications arise from the need to operate in highly cluttered environments. This is often further complicated by the stringent size, weight, and battery life requirements of the devices (tags) that are placed on the objects of interest to enable their monitoring.
In the NOW funded VENI project, Dr. Anastasia Lavrenko will develop innovative solutions to this problem by utilizing the harmonic radar (HR) sensing principle. In HR, the object of interest is equipped with a simple harmonic transponder tag which is designed to produce a nonlinear response when illuminated by an interrogating radio signal. As a result, the signal that arrives back at the receiver has a distinct carrier frequency, enabling sensing functionality in situations where linear techniques are ineffective due to clutter. However, current HR implementations that follow this basic operation principle suffer from a number of fundamental limitations that severely restrict their applicability, such as low operational range, bulky and expensive system designs, and absence of multi-tag tracking mechanisms. In this project, Dr. Lavrenko will develop novel solutions that overcome these limitations by utilizing the full potential of the harmonic operation to deliver low-cost, flexible system designs that provide increased operational range and accurate multi-target tracking with simple, battery-free harmonic tags.
MORE INFORMATION
More information about the project can be found on the website of NWO. The contact person for the project is Dr. Anastasia Lavrenko.
Education
RADIO SYSTEMS COURSES
Stay informed!