Friday 4 December 2020
The Faculty of EEMCS challenged their first year students to go out and see the beauty that Autumn in Enschede has to offer. During this pandemic, starting a new study can be challenging for our students. Most of their time will be spent behind a screen. What is a good remedy for loads of screen time? Nature! Enschede is full of parks and nature reserves which we wanted our students to explore through a photo challenge! In Japan they are already very familiar with forest walks for relaxation. They call it Shinrin-yoku, in other words: 'forest bathing'. A visit to the forest for relaxation and to improve one's health. It reduces stress and boosts the immune system, isn't that what we all need right now?
We asked our students to visit six different locations: Waterlöp Kristalbad, Uitkijktoren Airport Twente, Lonneker Molen, Abraham Ledeboerpark, Volkspark & Hof Espelo. At each location they had to take a photo with a letter so that all photos together would form a collage with the word AUTUMN. We received some beautiful and very creative collages which we want you to see!

By Jule Tabel & Arwan Credoz  

By Sophie Chen & Emiel Harmsen

By Joris Kuiper & Natasja Schaafsma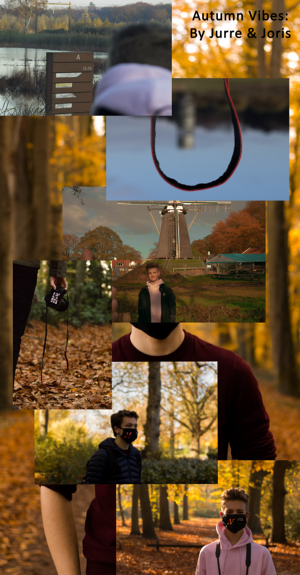 By Jurre de Ruiter & Joris Kuiper