There are over 5 million autistic individuals in the European Union. If you include their families, autism spectrum conditions touch the lives of over 20 million Europeans. It affects the way an individual communicates, understands and relates to others. Autistic individuals often have difficulty using and understanding verbal and non-verbal language. This often makes it difficult to understand others and interact with them. Getting the right support and therapies makes a substantial difference to autistic individuals.
On the other hand, autistic individuals often have intact and sometimes even superior cognitive abilities to comprehend predictable systems, such as robots. Autistic children may perceive a humanoid robot as being less complicated, less threatening, and more comfortable to communicate with than humans. Research has demonstrated that the best treatments are early and specialized behaviour-based therapies that helps autistic individuals to develop skills to cope with the individual challenges they face.
The overall aim of the DE-ENIGMA project is to realize robust, context-sensitive, multimodal and naturalistic human-robot interaction (HRI) aimed at enhancing the social imagination skills of autistic children. This extends and contrasts considerably to the current state of the art in existing technological solutions to machine analysis of the facial, bodily, vocal and verbal behaviour that are used in (commercially and otherwise) available human-centric HRI applications. Realising an on-going effective dialogue between the child and the robot as part of a therapeutic process to teach the children socioemotional skills such as recognising and displaying appropriate emotions and social behaviours in relevant contexts also requires effective robot behaviour planning and execution. The design of effective robot behaviours for the target user group as well as maintaining a social dialogue for the purpose of developing the children's skills over the longer term is a more personalised and long-term oriented effort than has previously been realised. This goes beyond state of the art of longer-term interaction or agent-based therapies which currently do not involve adapting behaviours as part of an autonomous assessment loop of increasing user skill development.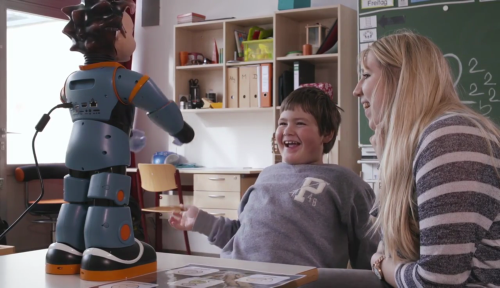 Contact information
Dr. J.J. Li (Jamy Li)
j.j.li@utwente.nl
+31 (0)53 489 2699 
For more information, visit the official project website: http://de-enigma.eu/