profile
Roeland Ordelman is senior researcher Multimedi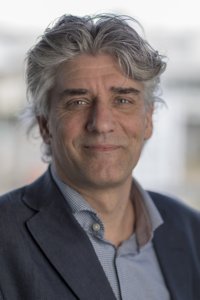 a Retrieval at University of Twente (PhD, 2003), manager R&D at the Netherlands Institute for Sound and Vision and founder of a start-up company for audio search technology, Cross Media Interaction (X-MI).
The main focus of his work is on deploying state-of-the-art multimedia access technology in real-life application scenarios. The  aim is to enhance the exploitability of the large volumes of audiovisual content becoming available for various types of user groups such as professional archivists, broadcast professionals, researchers, and home users.
Recent projects are among others AXES (Access to Audiovisual Archives), LiWA (internetarchiving), Verteld Verleden (distributed access to Oral History) and COMMIT (rich speech retrieval).
publications