Profile
Current position and interests
Presently, I am a PhD candidate at the Human Media Interaction
(HMI) department at the University of Twente. I am working on the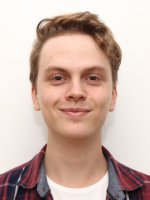 Council of Coaches project, which is funded by the
Horizon 2020 EU Framework Programme for Research and Innovation.
Currently, my interests lie in social and persuasive virtual agents, coaching strategies and coaching styles, multimodal dialogue with multiple virtual agents, e-health, serious games, human-machine interaction, usability, and user experience.
Prior experience
Prior to my work at the University of Twente, I obtained a bachelor's degree in Psychology (BSc, 2015, Leiden, The Netherlands) and a master's degree in Applied Cognitive Psychology (MSc, 2017, Leiden, The Netherlands). During the second half of the bachelor and the rest of the master, I gradually acquired an interest in using psychological knowledge to design technology to help support the needs of people. I did voluntary work at a retirement home, and saw the needs of the elderly there. This inspired my work when I did my internship, during which I researched the effects of serious games on the cognitive functioning and well-being of elderly.
After my graduation I spent some time working at VIR e-Care Solutions, which is a company that develops supporting software for professionals and patients in rehabilitation centers. During this time I did research on improvements to be made to the software by interviewing users and customers, and worked with a team to realize these improvements.
Research
Council of coaches
The aim of this project is to change the way we look at virtual coaching. We are creating an autonomous virtual council of coaches that can assist people in achieving their health goals. By advancing the state of the art in embodied conversational agents we are enabling fluent multi-party interaction between multiple coaches and our users. 
Individual coaches will have their own area of expertise, personality, and style of coaching. This will help them fulfill different necessary roles in the coaching sessions.
The topics of the interactions in these coaching sessions will be the users, their health, their worries, and their goals. The goal of the coaches is to support users in improving their health and well-being, and to help users to attain their goals. 
For more information, visit the official Council of Coaches website.

Publications
To be updated.