Tuesday 17 May 2022
On Friday the 20th of May, the University of Twente celebrates its 60th anniversary. During this year's jubilee edition of the Dies Natalis, Cybersecurity-expert Jaya Baloo will receive her honorary doctorate. To celebrate this, TUCCR organizes the "Boosting Cybersecurity Innovation and Entrepreneurship" Mini Symposium this Friday. This event is an excellent opportunity to meet Jaya in person and discuss directions for future cybersecurity research!
GET INSPIRED AND CONNECT
The programme of the TUCCR Mini Symposium is filled with inspiring people from the field of cybersecurity. People can enjoy talks by our guest of honor, Jaya Baloo and Sandro Etalle, Co-Founder of Security Matters. Next to that, cyber experts extensively examined various topics during the panel discussions. And last but not least, the host of the day is presenter, writer and researcher in Information Technology: Chris van 't Hof!
Want to see the whole programme? Visit the TUCCR Mini Symposium event page.
HONORARY DOCTORATES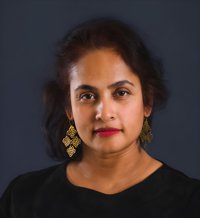 During the Dies Natalis, Cybersecurity-expert Jaya Baloo will receive her honorary doctorate. As one of the world's most prominent experts on cybersecurity, she is currently the Chief Information Security Officer (CISO) at Avast, a big global player in the field of information security and antivirus software. Earlier on, Jaya worked at KPN, at which she set up a world-class security team. It is therefore not surprising that Jaya was one of the Dutch 'Inspiring fifty' in 2019: fifty women who act as role models in the world of technology.
In her new role as an honorary doctor, Jaya will act as the "ambassador for the University of Twente and the Twente University Centre for Cybersecurity (TUCCR)"
U-TODAY INTERVIEW
In an interview with U-Today, Jaya Baloo emphasizes that she takes this as 'a true honour'. Receiving an honorary doctorate from the University of Twente makes her emotional: 'When I heard that I was going to receive an honorary title, I was so happy I cried!', she reveals. 'It feels so unreal. It's so wonderful. I'm just doing my work. It really is an enormous honour.'
Read the whole interview with Jaya Baloo on U-Today. 
REGISTER
The TUCCR Mini Symposium takes place on the 20th of May, from 11:00 till 14:00 at the Gallery (Room: Erlenmeyer).
More information about the event can be found on the TUCCR website.