Walking & TalkinG
Would you like to get some physical activity during your break? Student well-being employees from multiple faculties are organising weekly walks in the context of student well-being. This way you can create a weekly healthy habit that helps you to move, and enjoy nature.  
The student well-being employees will be there every week to answer any questions you might have. Or maybe you just want to talk... Or maybe you just want to walk... You are always welcome! Most weeks Hoppus, the emotional support dog at BMS, will walk with us.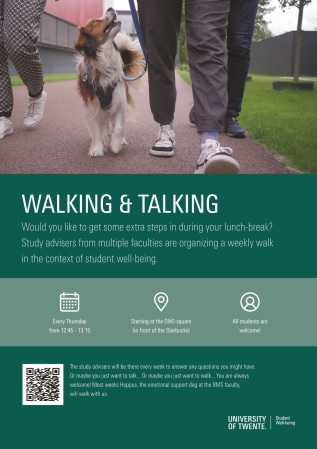 When: Every Thursday, 12:45 - 13:15h
Where: Starting at the O&O square (in front of the Starbucks). We will walk in the Ledeboerpark or nature on and around campus.
Who: All students are welcome!