Description project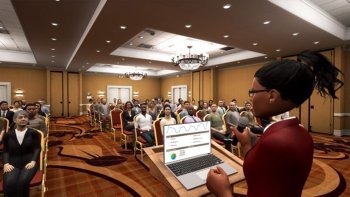 The skills to provide effective and convincing presentation for various audiences become more and more important for engineers. However, engineering education curricula are full and the numbers of students in those studies grow quickly. As a result, the training of presentation skills receives relatively little attention. Teachers make don't have the time nor the space to provide intensive presentation skills training, let alone that they have time to provide formative feedback to individual students. The use of Virtual Reality (VR) might offer an effective solution. With this technology, students can train their presentation skills, individually or in small groups, by presenting for virtual audiences. The aim of this project is to develop instruction and materials that facilitate and support using VR effectively in 4TU engineering curricula. Furthermore, the research aim of this project is to provide insight into the user experience and into the effectiveness of the developed training, materials, and instruments.
Expected outcomes
Lesson materials
Guidelines for designing and supporting VR presentation skills training
Research report
involved researchers
Dr. Bas Kollöffel  -  project leader and contact person
Duration of the project
May 2019 – On hold
Funding and partners
Funded by: 4TU. Centre for Engineering Education
Partners: University of Twente Language Center, the University of Twente Technology Enhanced Learning and Teaching (TELT) team, and the BMS Lab.
project website
Not applicable
Publications related to this project
4TU.CEE projectplan. Presenteren met Virtual Reality: Onderzoek naar de effecten van het trainen van presentatievaardigheden met Virtual Reality in technische studies.