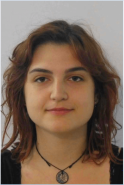 A.I. (ADINA) ALDEA
University of Twente
Faculty of Behavioural Management and Social Sciences
Dep. Industrial Engineering and Business Information Systems
P.O. Box 217
7500 AE Enschede
The Netherlands
Room: RA 3315 (Ravelijn)
Tel: (+31 53 489 6508
E-mail: a.i.aldea (a) utwente.nl
SUMMARY
Adina is a PhD student in the IEBIS Department at the Faculty of Behavioural, Management and Social sciences (BMS) of the University of Twente. She has a master degree in Business Administration from the University of Twente. Currently, Adina is doing research in the area of Strategic alignment, with a focus on Business-IT alignment and how organizations can improve the fit between strategy development and strategy implementation.
RESEARCH INTERESTS
Business strategy: methods, models and frameworks for designing, choosing, and implementing strategies;
Business and value modelling, and networked businesses;
Capability-based planning: methods, modelling that support the development of capabilities for enterprise transformations;
Portfolio management: methods, modelling, valuation of projects;
Enterprise Architecture: methods, models, and analysis;
Serious gaming: design, development and testing of serious games.
PUBLICATIONS
A. Aldea, M. E. Iacob, D. Quartel, and H. Franken, "Strategic planning and Enterprise Architecture," In: 1st IEEE Enterprise Systems Conference (ES), 2013, pp. 1-8.
A. Aldea, M. E. Iacob, J. Van Hillegersberg, D. Quartel, and H. Franken, "Serious gaming for the strategic planning process," In: 16th IEEE Conference on Business Informatics (CBI), 2014, pp. 183-190.
A. Aldea, M. E. Iacob, J. Van Hillegersberg, D. Quartel, H. Franken, and L. Bodenstaff, "Modelling strategy with ArchiMate," In: 30th ACM Symposium on Applied Computing (SAC), 2015, pp. 1211-1218.
A. Aldea, M. E. Iacob, J. Van Hillegersberg, D. Quartel, and H. Franken, "Capability-based planning with ArchiMate," In: 17th International Conference on Enterprise Systems (ICEIS), 2015, pp. 352-359.
A. Aldea, M. Iacob, J. van Hillegersberg, D. Quartel, and H. Franken, "Modelling Value with ArchiMate," In: Advanced Information Systems Engineering Workshops. vol. 215, A. Persson and J. Stirna, Eds., ed: Springer International Publishing, 2015, pp. 375-388.
M. Roelfsema, A. Aldea, M. M. Lankhorst, and H. Franken , "How about Strategy? A survey into the Pitfalls of Strategic Alignment", San Francisco, CA: Open Group, W151, March 2015.
A.Aldea  (2017)  Enterprise strategic alignment method. A cross-disciplinary capability-driven approach. PhD thesis, University of Twente. https://ris.utwente.nl/ws/portalfiles/portal/6045124