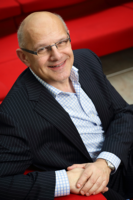 Dr A.B.J.M. Wijnhoven
University of Twente
Faculty of Behavioural Management and Social Sciences
Dep. Industrial Engineering and Business Information Systems
P.O. Box 217
7500 AE Enschede
The Netherlands
Room: RA 3313 (Ravelijn)
Tel: (+31 53 489)3853
E-mail: a.b.j.m.wijnhoven@utwente.nl
BACKGROUND
Candidatum and M.Sc in political science, Radboud University Nijmegen
PhD management information systems, University of Twente
RESEARCH INTERESTS
Quality and value of knowledge on the internet. Knowledge is studied in its many forms (facts, explanation, predictions, decisional information, persuasive information and problem solutions) and may have many users (novices, amateurs, professionals and scientists). The research interest aims at covering this diversity in design science studies, i.e., the development of artefacts that next are subject to testing and behavioural research.
RESEARCH
-Reliability of knowledge extraction from social media for management decision.
-Empowerment of users of internet search engines.
-Intelligence amplification of professionals.
-Curing information waste in management reports and the internet.
TEACHING
Introduction to Management Information Systems for bachelor Business Administration students.
Project Management module for Business & IT and Business Administration bachelor students
Coordination and supervision of bachelor thesis projects for Business Administration and Business & IT students.
IT-based Knowledge Management and Business Innovation for master students of Business Administration and Business & IT.
Information Services for master students of Business Administration and Business & IT students.
Business Research (design science and MIS part) for master students in Business Administration.
Supervision of master theses Business Administration, Business & IT and Industrial Engineering & Management.
PhD supervision and examination.
PUBLICATIONS
See https://research.utwente.nl/en/persons/alphonsus-bjm-wijnhoven.
NETWORKS
Member of the Association for Information Systems (AIS) and BENAIS
Member of AIS Special Interest Group on Service Science
Member of the Academy of Management Division Organizational Communications and Information Systems.
Active in the European Centre on Information Systems.
Leader of the consortium on developing IBM Watson for medical decisions (other participants are representatives of Nederlands Kanker Instituut, Leids Universitair Medisch Centrum, Academisch Medisch Centrum Amsterdam, IBM Netherlands b.v, and Medical Research Data Management b.v.)
OTHER ACTIVITIES
Fons is the chair of the Examination Committee of the Business & IT programme.
Fons is member of the study board of Business Administration.