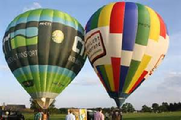 After the success of the Supply Chain Hackathons in
2013, 2014 and 2015 at the University of Twente, we organize the fourth Supply Chain Hackathon on October 14th, 2016. During this event student teams of analysts, designers and developers get the opportunity to show their skills in solving a number of challenging real world supply chain cases based on real world data from participating companies.
Participating teams are enrolled in the Business Process Integration Lab course. The hackathon is also open for external teams.
Mark the date of this event in your calendar and make sure you don't miss this opportunity to show your skills, work on real world problems, win great prizes and get in touch with interesting companies!