As we hoped and might expected the success of the past years continued in season 2013. The BetonBrouwers attended two events, the Dutch Concrete Canoe Challenge in Utrecht and the BetonKanu-Regatta in Nürnberg. In both events a lot of prizes were won, but the most important were the 5 first prizes and the sustainability award in Utrecht, and winning in both men and women categories in Nürnberg.
Like every year we have built new concrete canoes for this season. Due to a time problem we made just three new canoes instead of the five we planned. But this was no big deal, because the canoes from previous seasons were still in such a good shape that they were good enough to participate in the race in the Netherlands. With one of our new concrete canoes and three from previous seasons we participated in the BetonKanoRace in Utrecht. The hard training in the weeks before the BKR paid out in the finals on the old canals in the centre of Utrecht. Thanks to a good training and strong canoes we managed to win five 1st, five 2nd and six 3rd places with our men, women and mixed teams. Particular attention goes to the sustainability award, we have gain this award because we used a very old canoe, "De Slachttand". This was the 4th season we used this canoe and it is still working and apparently good enough to win races with it.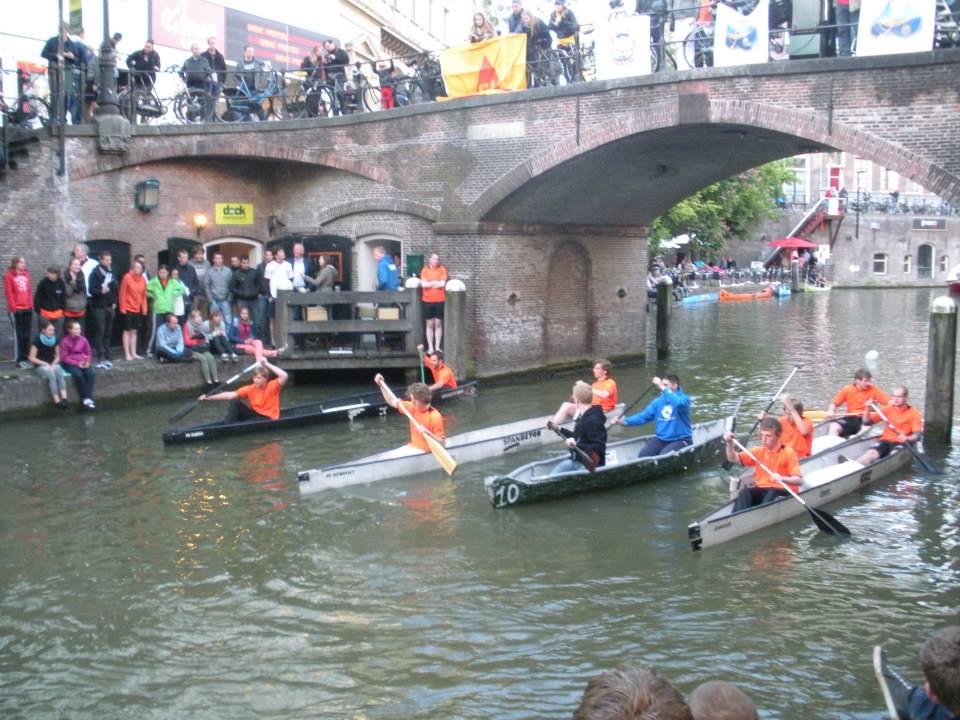 With the spirit from the BKR in Utrecht we put all our energy in the new canoes for the BetonKanu-Regatta in Nürnberg. For this race we made two totally new canoes, because the regulations in Germany say you are only allowed to participate with canoes which are not older than one year. The two new canoes were "Sneeuwwitje" and "Prinses Beatrix", respectively referring to Snowwhite and the former queen of the Netherlands. The races in Nürnberg can be seen as the unofficial European-championship, because it is attended by teams from a lot of different European countries like Germany, Switzerland, Czech Republic and of course the Netherlands. In a tough but still fair sporting competition Alex Bos and Ruben Herrebrugh managed to win the men competition. This meant the men competition was won three times in row by us, which is a unique result. The ladies competition was won by Henrike Maris and Cindy Clevers. The second men team, Ynze Goinga & Alwin van Olst, got 3rd and the second ladies team, Tessa Andringa & Anna Steiner, got 4th.
Check out pictures of this and other races here.