prof. Jan Kreiken
When you hear the name of the University of Twente, you're bound to think of… Professor Jan Kreiken, management guru and rector magnificus (1925 - 2001). 'The future cannot be predicted: we have to make it ourselves' was one of his most memorable bons mots, emphasising the importance of innovation.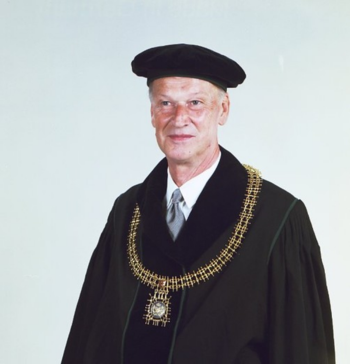 Professor Kreiken was a well-known business strategist, pioneer of the management concept in Europe and co-founder of Twente's business administration programme. He began his scientific and business career in South Africa in the 1950s. In 1968 he was appointed professor of business economics at what was then the Twente Technical College. And as early as 1970, when Kreiken was just 45 years old, he ranked among the extremely exclusive group of leading Dutch business economists. This is all the more remarkable because he was not affiliated with any of the university economics faculties, no matter how much they tried to recruit him as a professor. Kreiken preferred to practise his specialism in the context of business studies. So he became not only the co-founder of Business Administration at Twente but also a pioneer in the academic recognition of that field in the Netherlands. Business Administration in Europe owes him a debt for establishing the nerve centre of academic business administration in Europe: the European Foundation for Management Development (EFMD).
Both Professor Kreiken as an academic and his work attracted students and academics from far and wide. Prominent personages from around the world, whom we would now refer to as 'management gurus', regularly visited Professor Kreiken's office on the fourth floor of the 'BB building' (now The Spiegel building). That circle of distinguished names that Kreiken moved amongst for so long provided the inspiration for many educational and research projects within his faculty and his department. With reference to the Anglo-Saxon concept of 'managerial economics', his motto was: to practise business economics in a management context. His inaugural lecture in 1968 was thus entitled 'Management and Business Economics'. That speech gave renewed impetus to business economics and undoubtedly contributed to his status as one of the Netherlands' leading business economists.
Professor Kreiken was rector magnificus of the THT from 1974 to 1976, and in that position he had a very clear vision. The university was struggling with low student numbers and Kreiken argued, much to the displeasure of some in the campus community, that the key was to provide better information for prospective students, and to do so in a more proactive and professional way. But there was support for his position, too. In 1974, a group of anonymous supporters placed a toilet and a tree on the campus together with the text 'Stop griping and listen to Kreiken'. The message was clear. A new information plan was drawn up to improve the profile of the Twente Technical College. The Kreiken tree, planted in 1998 on Drienerlolaan, now represents the transition to modern student recruitment techniques. His personable approach to informing and recruiting prospective students continues to be important at the university to this day. One thing is clear: with his progressive vision, Kreiken certainly did succeed in 'making the future'...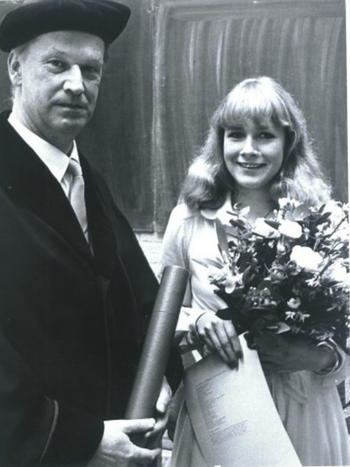 Jan Kreiken hands the diploma to the first female graduate from the "Bestuurskunde" study programme (1979)