Monday 17 February 2020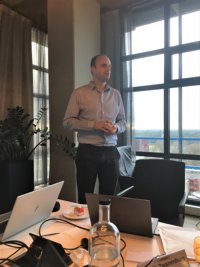 The Kick-off meeting of TOPSQUAD organized on February 13 and 14 at the University of Twente assured a solid start of the project. During the first day of the meeting the coordinator and the work packages leaders presented the project's objectives, deliverables and tasks. The presentations were accompanied by inspiring discussions of all the consortium members. The presentations of the roles and the interactions for the different tasks stressed on the importance of frequent internal communications and close collaborations between the partners. 
The second day of the meeting has been mostly dedicated to the non-scientific part of the project including its management and financial aspects. Particular attention has been given to the communication activities of the project which led to lively and constructive discussions. A brainstorming game and the social aspect of the meeting including the dinner contributed successfully to TOPSQUAD's teambuilding.