Beste studenten van de faculteit TNW,
Ben jij benieuwd hoe het er bij andere studies binnen de faculteit aan toe gaat? En welke overige zaken spelen binnen de faculteit en universiteit? Dan is de faculteitsraad TNW wellicht iets voor jou.
Van 22 juni t/m 26 juni 2020 zijn er weer verkiezingen voor de faculteitsraad (FR) van TNW. De FR is het medezeggenschapsorgaan van de faculteit, wat betekent dat zij de decaan en de rest van het management van de faculteit adviseert en controleert.
Elk jaar verlaten er studenten de FR en komen hun plekken vrij. Wij zijn op zoek naar studenten die zich naast hun studie willen ontwikkelen of die interesse hebben in zaken die spelen op facultair- en universiteitsniveau. Ervaring in een ander medezeggenschapsorgaan of bestuur komt van pas, maar is niet vereist.
Als FR lid vergader je elke zes weken met het management van de faculteit en verder vergader je ook intern met alleen de FR. In het totaal komt dit neer op ongeveer 1x per twee weken vergaderen. Hiervoor krijg je een vergoeding van € 648 per jaar. Om jullie een idee te geven van de onderwerpen die op de agenda komen: de internationalisering van de faculteit, de samenstelling van het OER en verder kijken we naar het jaarplan van de faculteit en ook naar de personeelszaken. Als actieve student in de faculteitsraad kun je veel betekenen voor het onderwijs van je eigen opleiding.
Ben jij geïnteresseerd om in samenwerking met andere studenten en medewerkers je in te zetten voor het functioneren van onze faculteit? Stel je dan uiterlijk 1 juni 2020 verkiesbaar! Op onze website (https://www.utwente.nl/nl/tnw/fr/ ) kun je meer informatie krijgen. En je verkiesbaar stellen voor de FR kan door te mailen naar bfd-tnw@utwente.nl.
Aarzel ook vooral niet om één van ons te benaderen met opmerkingen of vragen.
Met vriendelijke groeten,
Dear students of the faculty Science & Technology,
Are you curious how other studies within the Faculty are organized? Or do you want to get acquainted with other cases within the faculty or University? The faculty council might be the right place for you!
From 22 June until 26 June 2020 there will be new elections for the faculty council (FC) of S&T. The FC is a council consisting of students and employees of the faculty that advice and check the dean and his management team.
Every year a few members leave the FC and their positions become vacant. We are now looking for students who want to develop themselves besides their study or who have interest in affairs on a faculty and university-wide scale. Experience in another council or board comes in handy but is not required.
As a FC member you will have a meeting with the faculty management team every 6 weeks and in between these meetings you will meet 2 times with the FC. This means that in total you will have a meeting every 2 weeks. Your work will be compensated with € 648 per year. To give you an idea of the topics that were recently on our agenda: internationalization of the faculty, establishing the Education and Examination rules and furthermore we look into the annual plan of the faculty and employee affairs. As a student actively participating in the faculty council, you can be of great importance for the education of your own study program.
Are you interested to be a part of the FC and to take part in the decisions that are made for our faculty? Please take part in the upcoming elections by sending an email on 1 June 2020 at the latest to bfd-tnw@utwente.nl . For more information, visit our website at https://www.utwente.nl/en/tnw/fc/
And don't hesitate to come to us with questions.
Kind regards,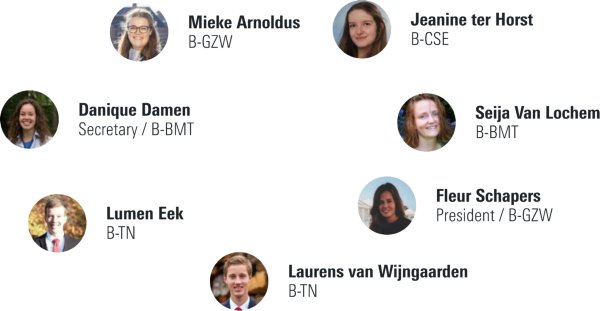 More info / Meer info