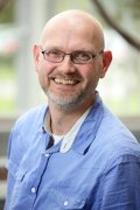 Post-Doc / Lab manager
Building: Zuidhorst
Room: 222
Phone: +31 (0)53 489 2762
E-mail: g.c.hassink@utwente.nl
Biography
My name is Gerco Hassink. I'm a cell biologist with a background in ER membrane protein quality control, protein degradation, the ubiquitin system, and in the endolysosomal system. I performed my PhD at Leiden University Medical Center and continued my research at the Karolinska Institute in Stockholm, after which I did a second post-doc at Utrecht Medical Center. Currently I'm doing research and provide technical assistance to the research theme "Neurotechnology and cellular engineering" at both the clinical neurophysiology and the Biological Signals and Systems group.
Research interests
Beside assistance in the project "Effects of ischemia and hypoxemia on neuronal connectivity and synaptic neurotransmission" my research is focused around Parkinson's disease. Together with the Nanobiophysics Group we try to elucidate the role of aggregate prone alpha-synuclein protein in cell death and disturbance of synaptic communication using cultured neurons on multi electrode arrays. Together with Biological Signals and Systems group and Applied Mathematics group we investigate altered GAP junctional coupling in the Globus Pallidus after ceased input of Substantia Nigra. This research we perform directly on brain slices.
Key Publications
Raiss, Christian C. and Braun, Theresa S. and Siemerink-Konings, Irene B.M. and Grabmayr, Heinrich and Hassink, Gerco C. and Sidhu, Arshdeep and Feber, Joost le and Bausch, Andreas R. and Jansen, Casper and Subramaniam, Vinod and Claessens, Mireille M.A.E. (2016) Functionally different α-synuclein inclusions yield insight into Parkinson's disease pathology. Scientific reports, 6 . p. 23116. ISSN 2045-2322
Xie, Sijia and Schurink, Bart and Wolbers, Floor and Luttge, Regina and Hassink, Gerco (2014) Nanoscaffold's stiffness affects primary cortical cell network formation. Journal of vacuum science & technology B: Microelectronics and nanometer structures, 32 (06FD03). pp. 1-5. ISSN 1071-1023
Velasco K, Zhao B, Callegari S, Altun M, Liu H, Hassink G, Masucci MG, Lindsten K. An N-terminal SIAH-interacting motif regulates the stability of the ubiquitin specific protease (USP)-19. Biochemical Biophysical Research Communincations (2013) 433(4):390-5. doi: 10.1016/j.bbrc.2013.02.094.
Hassink GC, Zhao B, Sompallae R, Altun M, Gastaldello S, Zinin NV, Masucci MG, Lindsten K. (2009) The ER-resident ubiquitin-specific protease 19 participates in the UPR and rescues ERAD substrates. EMBO Reports 10(7):755-61. doi: 10.1038/embor.2009.69.
Sompallae R, Gastaldello S, Hildebrand S, Zinin N, Hassink G, Lindsten K, Haas J, Persson B, Masucci MG. (2008) Epstein-barr virus encodes three bona fide ubiquitin-specific proteases. J of Virology 82(21):10477-86. doi: 10.1128/JVI.01113-08.
Hassink G, Kikkert M, van Voorden S, Lee SJ, Spaapen R, van Laar T, Coleman CS, Bartee E, Früh K, Chau V, Wiertz E. (2005) TEB4 is a C4HC3 RING finger-containing ubiquitin ligase of the endoplasmic reticulum. Biochem Journal. 388(Pt 2):647-55.
Kikkert M, Hassink G, Wiertz E. (2005) The role of the ubiquitination machinery in dislocation and degradation of endoplasmic reticulum proteins. Curr Top Microbiol Immunol. 300:57-93. Review.