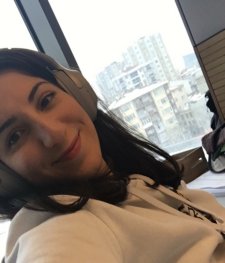 Erasmus (Master) student
TechMed Center, room TL 3385
email: 
phone: +31534891116
Biography
My name is Merve, I studied Physical Therapy and Rehabilitation at Bahcesehir University and Health Institutions Management in Istanbul University. Then received my MSc Degree in Physiology from Acibadem Mehmet Ali Aydinlar University and became physiologist.
I completed my internship experiences in the fields of child neurology and especially in children with brain injury. Since the treatment options in the clinic are based on preserving and mitigating the current situation, there are no definitive treatment options, I felt passion to search for a solution so I turned to the research field.
In my MSc thesis, I tried to mimic clinical follow-up and focused on hypoxic-ischemia to produce cerebral palsy in in vitro.
I aim to understand the pathophysiology of hypoxia at in vivo level during my Erasmus internship with the background I gained in my MSc thesis.
Research interests   
Hypoxic-ischemia, brain injury, plasticity, autonomic nervous system
Publications