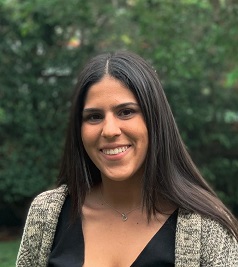 (Erasmus) Master Student
Building: Technohal, room TL 3384
Phone:  +31 (0)53 489 1116
E-mail: inescsarriaga@gmail.com
Biography
Hello, my name is Inês Arriaga and I was born on the 10th April of 1999 in Madeira, a small, flowery island located in the middle of the Atlantic where I lived for 18 years. At that age I moved to Porto, Portugal, to study Biomedical Engineering.
Since my tender years, I have always been passionate about mathematics and biology. It is for this very reason I have chosen to study bioengineering, the perfect balance between science, medicine and engineering.
I consider myself to be an eager and committed learner. I also love to explore and to meet new people. I'm naturally curious about the world and a very social person. I believe my determination can take me anywhere!
Research interests   
Currently I am working on my master thesis combining physiological signals with Machine Learning to develop a model to predict the outcome of patients after a Traumatic Brain Injury using EEG data. This opportunity at the CNPH group was received with great excitement since I was looking for something in which I could combine previous knowledge I had but also explore something new and different. Previously I had done internships at the CRPH group (study of central pressure waveforms and identification of characteristic points) also in Twente and at Cintesis (spectral analysis of foetal heart rate in detection of foetal acidaemia – characterization of undetected cases) in Porto.
Thus, signal processing has always been a part of my academic experience and I am now very excited to start a new chapter with exploring the depts of Artificial Intelligence, Machine Learning and Deep Learning.
Publications